Stock Rout Erases 2018 Gains for S&P, Dow Indexes: Markets Wrap
(Bloomberg) -- The sell-off in U.S. stocks accelerated, wiping out gains for the year in both the S&P 500 Index and the Dow Jones Industrial Average, as mixed corporate earnings and weak housing data fueled anxiety that rising prices will crimp economic growth. Treasuries rallied for a second day on demand for haven assets.
The S&P extended its October rout to 8.8 percent, making it the worst month since February 2009. Disappointing earnings from AT&T and Texas Instruments drove declines in the communications and semiconductor groups, offsetting a promising outlook from Boeing. The Dow tumbled 600 points, and the Nasdaq Composite Index lapsed into a correction.
"This is really off the walls," said Donald Selkin, chief market strategist at Newbridge Securities. "Nothing fundamentally changed during the day. I think it's a technical breakdown. Look at the Nasdaq -- down 300 points."
Amid the flood of earnings, economic data continued to underwhelm, particularly on the rate-sensitive housing front. New home sales sank again, sending battered homebuilders lower. Fragile market sentiment is also working through reports that potential bombs were sent to two former U.S. presidents and the New York headquarters of CNN.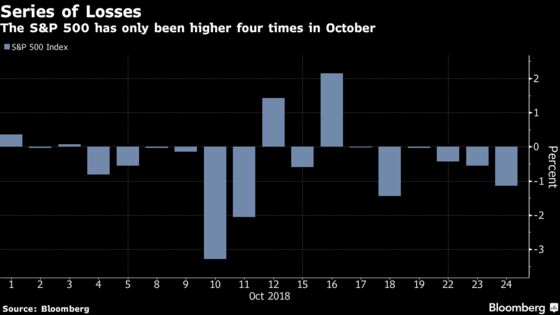 While stellar earnings haven't been enough to stem the sell-off equity bulls still point to a deluge of major reports still due this week as a reason for optimism. Microsoft delivered after the close Wednesday and its shares rallied 3.7 percent as of 4:15 p.m. in New York. Amazon.com, Alphabet and Intel headline megacap tech companies that report Thursday.
The Nasdaq plunged 4.4 percent for its biggest single-day slide since August 2011. The tech-heavy measure is now down 12 percent from an August record, meeting the accepted definition of a correction. The measure's biggest components -- Apple, Amazon.com, Microsoft and Alphabet, which account for almost a quarter of the index by weighting -- have dragged it lower as investors grow increasingly concerned that outsize profit gains won't be sustainable.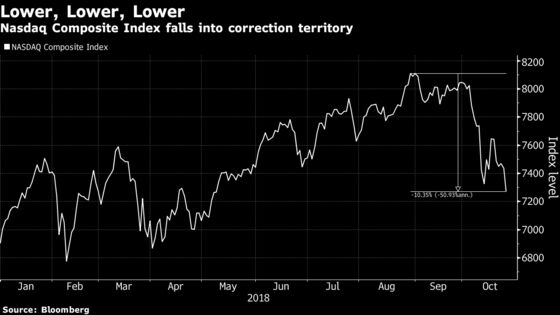 Sector rotation was on full display, with eight of the main S&P 500 industry groups falling -- and those, all by at least 2.7 percent. However, utilities gained 2.3 percent, and real estate and consumer staples companies also rose.
"Right now markets are still trying to reprice," said Chris Zaccarelli, chief investment officer at the Independent Advisor Alliance. "What's happening with earnings is exaggerating market moves."
Elsewhere, European politics were also in focus, with Italian Prime Minister Giuseppe Conte doubling down on his government's budget and U.K. Prime Minister Theresa May's cabinet descending into conflict. The pound weakened, and the region's bonds rallied. The euro dropped following disappointing manufacturing data.
Terminal readers can read more in our Markets Live blog.
Here are some key events coming up this week:
Earnings season rolls on with notable highlights including Twitter, UBS and Total.
ECB policy makers could on Thursday confirm that asset purchases will end this year, reiterating its pledge to keep interest rates at record lows through summer 2019. President Mario Draghi will hold a press conference.
U.S. gross domestic product growth may have slowed in the third quarter, yet remained near its best pace since mid-2015, according to forecasts ahead of Friday's release.
These are the main moves in markets:
Stocks

The S&P 500 dropped 3.1 percent to 2,656.29 as of 4:02 p.m. in New York, while the Dow Jones Industrial Average slumped 2.4 percent to 24,584.71 and the Nasdaq Composite Index tumbled 4.4 percent to 7,108.40.
The Stoxx Europe 600 slipped 0.2 percent, the sixth consecutive decline.
The U.K.'s FTSE 100 gained 0.1 percent, the first increase in three days.
Germany's DAX Index slumped 0.7 percent, the sixth straight drop.
The MSCI Emerging Market Index eased 0.7 percent.
The MSCI Asia Pacific Index slumped 0.4 percent.
The Bloomberg Dollar Spot Index was 0.4 percent stronger, reaching the highest level of the year.
The euro declined 0.7 percent to $1.1391.
The British pound fell 0.7 percent to $1.2898.
The Japanese yen was little changed at 112.39 per dollar.
The yield on 10-year Treasuries dropped seven basis points to 3.10 percent, while the two-year note yield fell five basis points to 2.83 percent.
Germany's 10-year yield fell one basis point to 0.40 percent.
West Texas Intermediate crude fell 0.2 percent to $66.30 a barrel.
Gold rose 0.2 percent to $1,233.03 an ounce.