Tech Sinks U.S. Stocks as ECB Fuels Growth Worries: Markets Wrap
(Bloomberg) -- Want the lowdown on European markets? In your inbox before the open, every day. Sign up here.
A drop in tech shares helped send U.S. stocks to their longest losing streak this year as the ECB's grim economic forecasts reinforced concerns that global growth is slowing. The euro fell to the lowest since 2017.
The S&P 500 Index sank for a fourth day, with Amazon, Microsoft, Apple and Facebook the biggest drags. The gauge closed just below the closely watched 200-day moving average of 2,750 that has provided support in the past. Government bonds surged, with the yield on Germany's 10-year notes reaching the lowest since 2016. The dollar climbed for a seventh day.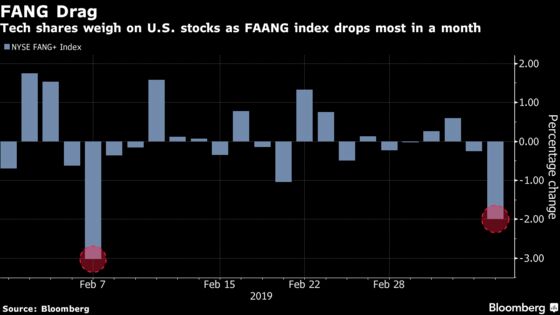 Economic concerns have moved to the forefront once more for investors, with European Central Bank officials cutting expansion estimates to justify a dovish turn a day after the Organization for Economic Cooperation and Development downgraded almost every growth outlook for Group of 20 nations. A U.S. jobs report tomorrow will shed light on the health of the world's largest economy. Trade remains in the picture with markets awaiting details of a possible accord, as President Donald Trump is said to be pressuring U.S. negotiators to cut a deal with China soon.
The ECB provided "another indication that our fears of slow growth are actually being confirmed,'' said Tim Courtney, the chief investment officer of Exencial Wealth Advisors in Oklahoma City. "For the U.S. markets, it just shows that it is going to be harder and harder for these companies to hit their targets if the rest of the world is either in very, very slow positive growth or in contraction mode."
Banks in Europe's main equity index tumbled as much as 2.6 percent after the ECB's plan to support the economy by issuing a new series of long-term loans disappointed some traders.
Elsewhere, shares fell in Japan and Hong Kong, with China bucking the trend. The pound fell even after the European Union was said to make a new offer to the U.K. in an attempt to break the Brexit impasse. Oil climbed toward $57 a barrel in New York as investors weighed a U.S. crude-stockpile surge that threatens to undermine OPEC's bid to avert a glut against a drop in fuel inventories.
Here are some key events coming up:
The U.S. jobs report Friday may show hiring moderated in February. Nonfarm payrolls may have increased by 180,000 while the jobless rate fell to 3.9 percent, according to estimates.
These are the latest moves in markets:
The S&P 500 Index fell 0.8 percent at the close of trading in New York.
The Stoxx Europe 600 Index decreased 0.4 percent.
The U.K.'s FTSE 100 Index declined 0.5 percent.
The MSCI Emerging Market Index sank 1.3 percent.
The Nikkei-225 Stock Average fell 0.7 percent.
The Bloomberg Dollar Spot Index climbed 0.7 percent, hitting the highest in 10 weeks.
The euro sank 1.1 percent to $1.1182, the weakest since June 2017.
The British pound dipped 0.7 percent to $1.3076, its sixth consecutive decline.
The Japanese yen rose 0.1 percent to 111.61 per dollar.
The yield on 10-year Treasuries decreased five basis points to 2.64 percent.
Germany's 10-year yield sank six basis points to 0.062 percent.
Britain's 10-year yield dipped five basis points to 1.17 percent.
West Texas Intermediate crude climbed 0.6 percent to $56.54 a barrel.
Gold was little changed at $1,285.66 an ounce.