Asia Stocks Go Wild After Trading Halts Set Off in Morning
(Bloomberg) -- A terrible week for Asian stocks started to look a bit better as Friday evolved.
As Asia woke up to the worst Wall Street sell-off since 1987, benchmark indexes sank across the region, triggering trading halts from Seoul to Bangkok, Manila, Jakarta and Mumbai. But by the end of the trading day, Australian stocks had staged a record intraday swing to close up 4.4%. By 5:11 p.m. in Hong Kong, India was in the green and Thailand had pared a plunge of 13% to gain 0.3%, while the MSCI Asia Pacific Index gauge had trimmed its loss to 1.9% after sinking as much as 6.7%.
Read: Watch Out for These Asia Circuit Breaker Levels: Taking Stock
"People are probably thinking there will be some kind of policy measures to support markets," on top of ones already announced, said Tomoichiro Kubota, a senior market analyst at Matsui Securities. "We could see a huge rebound in the short term given how much the market has fallen. But it doesn't feel like the mid-term downward trend will change. The market will continue to trade in high volatility."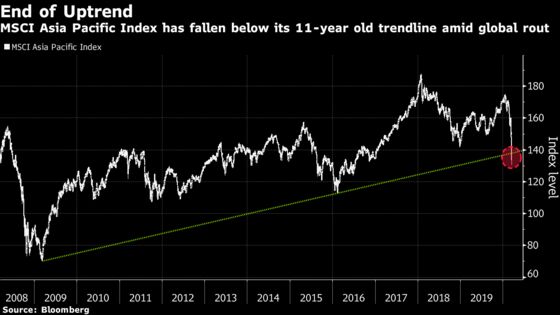 Friday's trading was particularly volatile, underscoring investors' lack of confidence over governments' measures to counter the coronavirus outbreak, with deaths approaching 5,000 globally. New York City has declared a state of emergency, France is closing all schools, and the Philippines has placed 12 million people in the Manila area on lockdown.
Traders cited multiple reasons for the sudden bounce, from simple bargain hunting, to short covering, hopes for more stimulus and a potentially vaccine being developed by a Canadian company to cure the virus.
"It appears that a number of long only fundamental investors are attracted by the increasingly attractive values stocks are offering right now," said Khiem Do, head of greater China investments at Baring Asset Management (Asia) Ltd. "And this happens, it forces the short-term momentum investors to cover their shorts this morning. Shorts are aware that central banks and government entities may also implement policies to stabilize markets."
Central banks globally have been providing liquidity to calm wild swings in financial markets. In the latest developments, the Bank of Japan will probably expand its stimulus at a meeting next week, people familiar with the matter have said, while India's central bank pledged to use its record $481 billion foreign-currency arsenal to stem a market rout. The Bank of Korea is also considering an emergency board meeting and will take steps to stem excessive foreign exchange movements.
"The equity markets have by now priced in at least a technical recession lasting two quarters," said Eli Lee, head of investment strategy at Bank of Singapore. "The larger question is whether we could see a longer fundamental recession."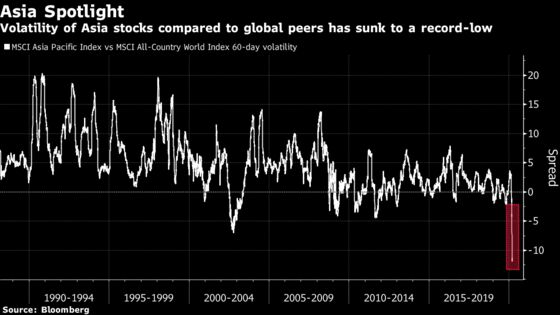 Despite all the wild price swings in Asian stocks Friday, turbulence is at record lows relative to global peers. The MSCI Asia Pacific is trading at a 60-day realized volatility of 21 versus the MSCI All Country World Index's 32. But that could soon change.
"Markets are schizophrenic at the best of times these days," said Jeffrey Halley at Oanda Asia Pacific Pte. "A couple of glimmers of hope are enough to see aggressive short-term momentum buying generated."