U.S. Stocks Halt Five-Day Skid; Brexit Roils Pound: Markets Wrap
(Bloomberg) -- U.S. stocks rose for the first time in six days, with beaten-down technology shares leading the rebound on speculation trade tensions will ease. The pound plunged as Brexit again threw the U.K. government into turmoil. The dollar was little changed, while oil and Treasuries jumped.
Trade-sensitive industrial shares led the S&P 500 Index higher in afternoon trading amid hope that China and the U.S. would de-escalate their trade spat before the G20 summit later this month, even as the threat of new tariffs looms. Technology, materials and energy stocks also reacted positively to the news, offsetting a decline in consumer stocks brought on by disappointing results from department stores.
For all the worries assailing investors -- Brexit, the trade dispute and Italian budget stress -- they are at least receiving a steady message from the U.S. central bank. In a question-and-answer session late Wednesday, Federal Reserve Chairman Jerome Powell played down recent turbulence in equities, saying volatility was only one of many factors that board members take into account when setting policy.
"Maybe if we can get progress in trade relations, that could be a boost," Jason Browne, chief investment strategist at FundX Investment Group, said in an interview. "But the benefits are likely to get offset from expectations of continued hikes from the Fed. That's part of the challenge right now."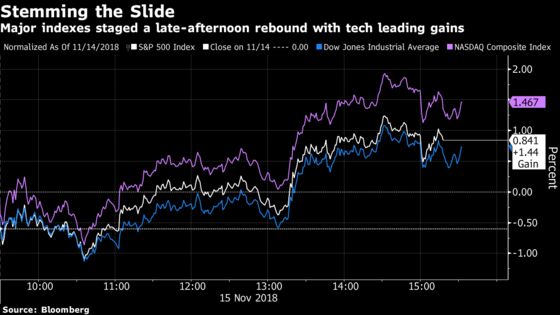 Sterling tumbled after Brexit Secretary Dominic Raab announced his resignation, the highest-profile of several departures on Thursday. Brexit-backer Jacob Rees-Mogg later joined calls for a vote of no confidence in Prime Minster Theresa May. The events throw into doubt her ability to secure Parliament's support for the exit plan -- and even to survive as leader. As the Westminster resignations rolled in, gilts surged, but at a press conference late Thursday, the premier reiterated her commitment to the exit deal. FTSE 100 Index futures surged.
Elsewhere, emerging-market shares rallied and their currencies strengthened. In Asia, Japanese stocks edged lower, while Hong Kong shares jumped after Tencent Holdings Ltd. earnings beat expectations. Chinese equities outperformed as reports indicated officials have outlined a series of potential concessions to the Trump administration. The Australian dollar climbed after a strong local jobs report.
These are the main moves in markets:
The S&P 500 Index gained 1.1 percent as of 4:01 p.m. New York time; the Nasdaq Composite Index added 1.7 percent.
The Stoxx Europe 600 Index declined 1.1 percent to the lowest in more than two weeks.
The U.K.'s FTSE 100 Index rose 0.1 percent in heavy volume.
The MSCI Emerging Market Index gained 1.5 percent to the highest in a week.
The Bloomberg Dollar Spot Index rose less than 0.05 percent.
The euro gained 0.2 percent to $1.1335.
The British pound decreased 1.6 percent to $1.2783, the weakest in more than two weeks.
The Japanese yen rose 0.1 percent to 113.56 per dollar.
The yield on 10-year Treasuries fell one basis point to 3.11 percent, the lowest in more than two weeks.
Germany's 10-year yield decreased four basis points to 0.36 percent.
Britain's 10-year yield decreased 13 basis points to 1.373 percent, the lowest in more than 11 weeks.
West Texas Intermediate crude climbed 0.4 percent to $56.44 a barrel.
Gold gained 0.2 percent to $1,213.67 an ounce.
LME copper gained 1.5 percent to $6,184 a metric ton.