U.S. Stocks Start Week Higher With Bank Boost: Markets Wrap
(Bloomberg) -- U.S. stock indexes got a boost from bank shares in an otherwise lackluster session as investors digested warnings from the world's financial leaders about the impact of protectionism on growth. Gains were extended in after-market trading as Alphabet Inc.'s sales topped estimates.
The S&P 500 Index started the week higher, with financials leading the gainers amid below-average trading volume. Amazon.com pulled consumer discretionary stocks lower after President Donald Trump renewed his public campaign against Jeff Bezos's Washington Post. West Texas crude see-sawed as Trump's warnings to his Iranian counterpart were offset by a strengthening dollar. Treasuries slipped.
An exchange-traded fund tracking the Nasdaq 100 climbed about 0.5 percent after the 4 p.m. close in New York, helped by a rally in Google parent Alphabet. Surprisingly strong sales from the search-engine operator helped assuage concerns spurred by Netflix Inc.'s results last week.
The world's finance chiefs over the weekend said global growth remains robust and many emerging-market countries are better prepared to face crises, but risks to the world economy have increased. Also rattling investors, Trump took issue with the yuan's six-week slide to the weakest level in more than year, raising concern that the America-China trade war is now spilling over into currency markets. The heated rhetoric is offsetting a mixed earnings season, keeping the S&P 500 hovering around 2,800.
"Many eyes are focused here given that it's a round number and that it's proven to be impregnable since breaking below it in February," Frank Cappelleri, senior equity trader and market technician at Instinet LLC, wrote in a message. "Given the plethora of earnings coming this week, there's little reason to force the issue from either side thus far."
He added: "Simply holding steady in the face of all of this would be a net positive."
The Stoxx Europe 600 Index closed lower after sudden changes in leadership at Fiat Chrysler hit carmakers, while travel companies also declined after Ryanair posted a 20 percent decline in first-quarter profit.
In Asia, Japan's 10-year government bonds plunged, sending the yield up the most in almost two years. The yuan slipped. Emerging-market stocks were little changed. Bitcoin pushed higher.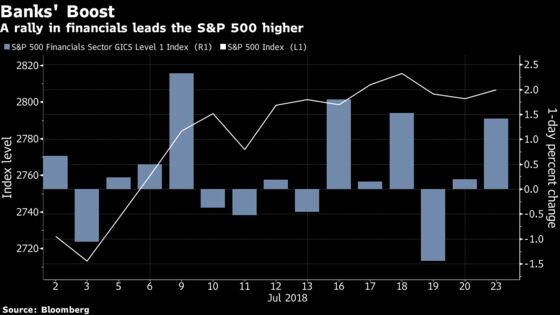 Terminal users can follow our Markets Live blog here.
Here are some key events coming up this week:
Earnings season continues with the following tech companies among those reporting: Facebook, AT&T, Amazon.com, Twitter, Advanced Micro Devices, Qualcomm and Intel. They are joined by global financial giants Deutsche Bank, UBS, Nomura and Visa. Others include Halliburton, Michelin, Boeing, Lockheed, Nissan and Shell.
Pakistan holds national elections Wednesday.
European Central Bank's policy decision Thursday.
U.S. gross domestic product probably increased by about 4 percent at an annualized rate in the second quarter, the most since 2014, economists forecast ahead of Friday's data.
These are the main moves in markets:
The S&P 500 Index gained 0.2 percent as of 4 p.m. New York time.
The Stoxx Europe 600 Index fell 0.2 percent to its lowest in a week.
The U.K.'s FTSE 100 Index fell 0.3 percent, the biggest fall in a week.
The MSCI Emerging Market Index decreased less than 0.05 percent.
The Bloomberg Dollar Spot Index advanced 0.1 percent.
The euro fell 0.2 percent $1.1697.
The British pound declined 0.2 percent to $1.3106.
The Japanese yen gained less than 0.05 percent to 111.40 per dollar.
The yield on 10-year Treasuries gained six basis points to 2.96 percent, the highest in more than a month.
Britain's 10-year yield advanced four basis points to 1.272 percent.
Germany's 10-year yield climbed four basis points to 0.41 percent, the highest in over five weeks.
Japan's 10-year yield gained five basis points to 0.086 percent, the the largest rise in almost two years.
West Texas Intermediate crude fell 0.7 percent to $67.80 a barrel, the first retreat in a week.
Gold declined 0.3 percent to $1,225.31 an ounce.
LME copper dropped 0.3 percent to $6,130 a metric ton.