Asian Stocks Set Eyes on Record High After Erasing 2020 Losses
(Bloomberg) -- Stocks in Asia Pacific have dug their way out of a hole for the year as the global market recovery from the coronavirus continues to grind higher. A record high set in early 2018 seems to be the next target for investors.
The MSCI Asia Pacific Index closed up 0.5% to 171.05 as of 4:50 a.m. in Hong Kong, erasing its year-to-date loss after the S&P 500 Index closed just shy of a record high. Health-care and communications shares have been the top performers this year as investors pile into sectors closely related to the pandemic and remote-working arrangements, while finance and real estate have fared the worst.
The Asian index has rebounded after a sell-off that erased almost $6 trillion of its market value, thanks in no small part to a rally in Chinese shares that ranks among the best in the world. While optimism about the path of the pandemic has helped U.S. shares approach new highs, enthusiasm in Asia has been more restrained as a resurgence of the virus in several countries in the region puts theories of a quick turnaround in corporate earnings to the test.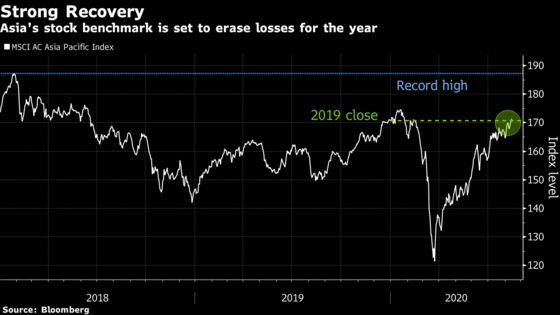 The Asia Pacific gauge remains more than 8% below the all-time high it set in January 2018. It continues to lag the S&P 500, which is up 4.6% this year, helped by a rally in technology shares. The European benchmark has lagged far behind, and is still down about 10% in 2020.
"Barring sudden escalations in U.S.-China trade tensions, the measure may well sustain the rally with the relative better performance of North Asia markets," said Jingyi Pan, a market strategist at IG Asia Pte. The climb to a record high, however, will be "slow," given the expected slowing in demand recovery and more noise heading into the U.S. elections, she added.
Similar to the U.S. , the biggest boosts to the Asian stock benchmark this year include tech giants, including Tencent Holdings Ltd., Taiwan Semiconductor Manufacturing Co. and SoftBank Group Corp. The biggest gainers in percentage terms are Malaysia's Top Glove Corp. and Chinese online education firm GSX Techedu Inc., two stocks that have been bought on expectations of higher demand due to the coronavirus.
Some analysts say the outlook now hinges on vaccine development. Russia announced the world's first Covid-19 vaccine earlier this week, although that has been met with skepticism. Separately, Moderna Inc. reached a deal with the Trump administration to supply 100 million doses of its experimental vaccine for Covid-19 to the U.S.
Meanwhile, the "stay-at-home" trade continues to hold sway in Asia, partly due to stricter measures by regional governments to combat a resurgence of the virus. A Bloomberg-compiled basket of regional shares including video games, internet services and health-care names has slightly outperformed the MSCI Asia Pacific Index this month.
"Asia's governments have been acting more conservatively in reopening their economies, and investors in the region have been taking note of that," according to Steven Leung, an executive director of Uob Kay Hian (Hong Kong) Ltd. "But in the U.S., people are more optimistic. The expectation of a fast recovery now is getting higher after the recent news on vaccine."
READ: Asia Equities Have a Way to Go to Eclipse Highs: Taking Stock
The Asian stock gauge has rebounded 41% from its March low compared with a 51% bounce in the S&P 500. Amid this underperformance, Asian shares remain much cheaper than their U.S. peers, a potential draw for those looking at relative value plays. The MSCI Asia Pacific is trading at about 16.7 times estimated earnings for the next 12 months versus over 22.4 times for the U.S. benchmark.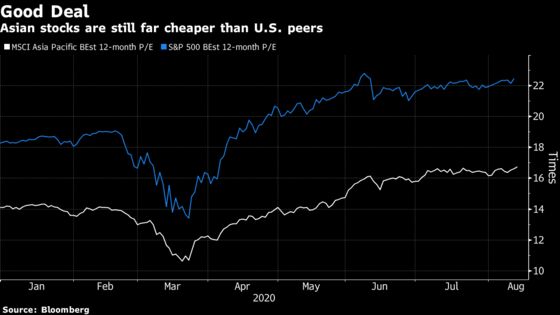 Asia Pacific stocks "may have more room to go compared to their U.S. peers" in part due to their relatively low valuation and the low interest-rate environment, said Margaret Yang, a strategist at DailyFX.