Asia Stocks Beat the World as Resurgent Virus Hurts U.S., Europe
(Bloomberg) -- Asian equities are more resilient in the global selloff, reaping the gains of economic reopening and a slowdown in the pace of coronavirus infections, even as peers in the U.S. and Europe grapple with a worsening outbreak.
The MSCI Asia Pacific Index lost a modest 0.5% Thursday morning after a 3.5% slump in the S&P 500 overnight. This month so far, the Asia Pacific gauge has outdone the U.S. index by about five percentage points, the most since May 2009, as investors in America deal with the added uncertainty surrounding the Nov. 3 presidential election. The regional measure has also beaten the MSCI All Country World Index by about 4 percentage points.
"Better Covid containment may continue the outperformance" of Asian stocks versus global peers, said Michael McCarthy, chief market strategist at CMC Markets Asia Pacific Pty. in Sydney.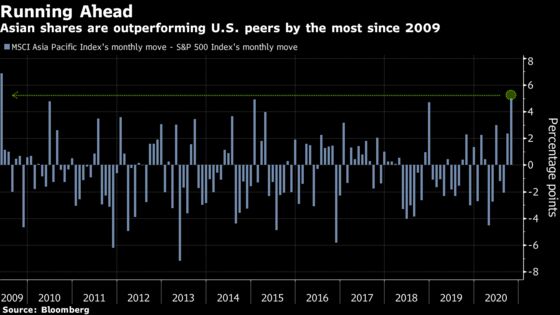 The pace of new virus infections in Asia has slowed to less than 60,000 daily cases from more than 100,000 a little over a month ago. That's a stark contrast to the U.S. as well as European countries such as Italy and France, all of which saw a record daily increase in confirmed cases over the past week. The worsening pandemic has reclaimed its hold on investor sentiment in the U.S., where markets have been kept on edge for weeks by uncertainties over the election and further fiscal stimulus.
Optimism that China's economic recovery from the pandemic slump is broadening out has also buoyed sentiment toward regional stocks.
Communication services and consumer discretionary sectors have been the top gainers in Asia this month. Internet and tech-related shares including Tencent Holdings Ltd., Alibaba Group Holding Ltd. and Sony Corp. are among the top contributors to the MSCI Asia Pacific's rally.
"The U.S. election uncertainty kept a lid on U.S. equities," burnishing Asia's performance, said Jingyi Pan, a strategist at IG Asia Pte. in Singapore. The Asian benchmark "may continue to shine against the S&P 500 Index" owing to the region's relatively better handling of the virus outbreak, she said.