Asia Small Cap Stocks Popular in Virus Recovery Trade
(Bloomberg) -- Asia investors on the hunt for equity winners are focusing in on smaller, faster-growing firms in the region amid growing optimism a post-coronavirus economic recovery will take hold.
A majority of the Top 10 performing individual indexes in the Asia Pacific region over the past month are concentrated on emerging enterprises, led by the TSE Mothers Index in Japan with a 19% advance. That's more than double the Kosdaq Index and the Taiwan TPEx Exchange, the next best-performing gauges.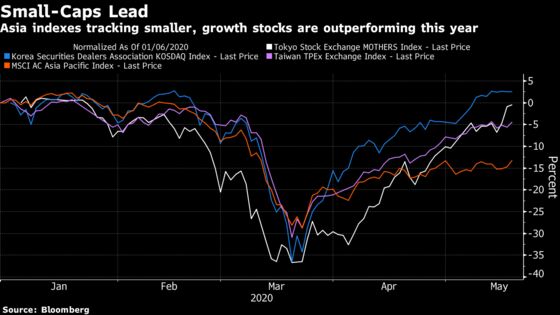 The benchmark MSCI Asia Pacific Index of more established stocks is up 2.1% in that time.
A look at the biggest winners in those indexes during the past month reflects increasing investor interest in sectors perceived as winners amid the coronavirus outbreak:
Online-related services firms Base Inc. and Vega Corp Co. and wireless communications provider IPS Inc. on the TSE Mothers Index have all doubled in value in the past month;
The top of the Kosdaq is dominated by biotechnology and health care firms, with Alteogen Inc. and UBCare Co. rallying more than 100%;
Taiwan's biggest winners in the TPEx Exchange are also health-related, with Oneness Biotech Co. tripling in value while GeneReach Biotechnology Corp. and Medigen Vaccine Biologics Corp. have also doubled.
"Investors are researching for the same themes they think will be successful on the mainboard among the small caps," said Jeffrey Halley, senior market analyst for Asia Pacific with Oanda. "Reasons? Lower cost to entry and hopefully, disproportionately large returns."
The wider global equity recovery is also predicated on avoiding a secondary wave of infections that drags down the world economy yet again, he said.
"Until we see actual evidence of it occurring, the peak virus buy everything trade will likely remain the path of least resistance," Halley said.
A similar trend is playing out in the U.S. with the Russell 2000 index rallying 8.5% in the past month, outpacing a gain of 2.8% for the S&P 500.
See also:
Asia Stocks Wrap
Global Markets Wrap
Markets Live Blog