Most Hawkish Asian Central Bank Lifts Rate to Tame Inflation
Pakistan's central bank raised its key rate for a third consecutive meeting, the most aggressive tightening in Asia to combat the region's fastest inflation.
The State Bank of Pakistan raised the target rate by 100 basis points to 9.75%, according to a statement Tuesday. While all 46 economists surveyed by Bloomberg predicted an increase, only 21 forecast the move, while the others saw a hike ranging from 50-200 basis points.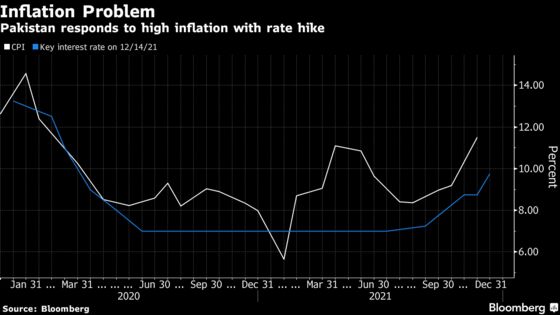 Local stocks closed 0.9% higher before the rate announcement, as investors bet on the quantum of hike to be smaller than the 200 basis points predicted by some analysts. Pakistan's six-month bond yields have increased 238 basis points to 11.26% since the last decision on November 11. 
The rise in yields across tenors appeared unwarranted, the central bank said.
Tuesday's decision takes the cumulative increase to 275 basis points in three moves since September, and rolls back part of the 625 basis points of easing the SBP delivered to cushion the pandemic's impact. With inflation picking up as economies reopen, central banks across the world have diverged in their response.
While some wait for the impact of the omicron coronavirus variant to play out, others have opted to unwind monetary stimulus. Brazil has unleashed the world's most aggressive tightening cycle so far, delivering 725 basis points of rate increases since March to bring inflation within target.
Consumer prices in Pakistan rose 11.5% in November, cementing its place as home to Asia's fastest inflation. Some of Pakistan's inflation problem is imported, which last month led to a larger than expected gap of $5 billion in the current account -- the broadest measure of trade. That's taken a toll on the rupee, which has been the worst performer for the past six months among 13 Asian currencies tracked by Bloomberg.
"The central bank's decision means there will be a gradual movement to positive real interest rate," said Khurram Schehzad, chief executive officer at Alpha Beta Core Solutions Pvt. "It will help tame current account and rising imports."
The central bank raised its fiscal year 2022 inflation forecast to 9%-11%, up from 7%-9% previously. It sees inflation easing toward the medium-term target range of 5%-7% in fiscal year 2023. The SBP expects economic growth this fiscal year to be close to the upper end of the forecast range of 4%-5%.