Asia's Best Rally in a Year Faces a Challenge Now: Taking Stock
(Bloomberg) -- The most robust rally Asian stocks have seen in more than a year is about to face its stiffest challenge yet.
Optimism recent rounds of trade talks between the U.S. and China will come to a favorable conclusion has helped push the MSCI Asia Pacific Index up more than 10 percent from its low in December. That's the fastest rebound since the end of January 2018, when the gauge capped an 11 percent rally in a similar time frame.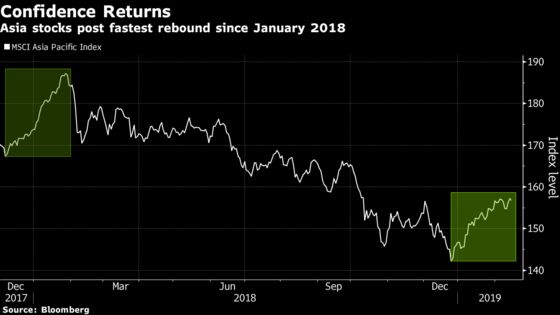 While things didn't exactly turn out well for Asian markets after that -- the index's 5.9 percent January advance ended up being the high point as it posted its worst annual slump since 2011 -- investors appear to be counting on things turning out for the better this time around, at least for now.
"The market's already showing that things are looking a lot better," said Richard Harris, Hong Kong-based chief executive officer of Port Shelter Investment Management, in an interview on Bloomberg Television. "Positive news on China will be quite good. The market is going to like that, even though there is a lot of difficult news out there -- difficult news in terms of earnings, difficult news in terms of growth."
On Thursday, the MSCI Asia Pacific Index pared losses slightly after news that U.S. President Donald Trump is considering pushing back the deadline for imposition of higher tariffs on Chinese imports by 60 days. He said Tuesday he was willing to let the March 1 deadline slide if the two countries are close to a deal.
While investors wait to hear the results of face-to-face negotiations between top U.S. and China officials under way in Beijing, their confidence in a brighter outlook will be tested with a deluge of results coming Thursday from Japan and other markets.
Japanese mail, insurance and banking giant Japan Post Holdings Co. headlines a slew of earnings Thursday from the insurance industry, including Dai-Ichi Life Holdings Inc., MS&AD Insurance Group Holdings Inc., Tokio Marine Holdings Inc. and Sompo Holdings Inc. Investors will also get a look at results from the food and beverage industry, with Asahi Group Holdings Ltd., Kirin Holdings Co. and Thai Beverage Pcl.
South Korea's Lotte Shopping Co. is also set to report, with Bloomberg Intelligence senior industry analyst Catherine Lim expecting fourth-quarter operating profit from its department stores to rise thanks to lower staff costs, despite slowing same-store sales growth.