Rich Asians Turn to Music After Betting on Soccer Craze
(Bloomberg) -- Asia's legions of wealthy investors are getting a chance to profit from the boom in music streaming as Spotify and its peers gain popularity.
Swiss-Asia Holding Pte, which previously marketed soccer-linked notes to clients, aims to raise $100 million for securities linked to royalties generated from song rights, according to Anthony S. Casey, investment manager for the Singapore-based company. Investors in the soccer product -- notes backed by soccer clubs' TV rights -- are expected to switch to the new security now that the old ones have matured, he said.
The Music notes have already been bought by DBS Private Bank, Julius Baer Group Ltd. and Bank of Singapore for Asian clients. Even as rising interest rates present wealthy people with more options for investment, there's still demand to diversify into alternative assets that aren't correlated to broader market volatility.
"It's hard to get stability in a portfolio these days,"said Ian Winter, founder and director of Quest Exploration & Drilling in the Philippines, who invested $250,000. "The Music note offers a hedge against volatile markets with Brexit, a strong dollar and trade war" on the horizon, he said.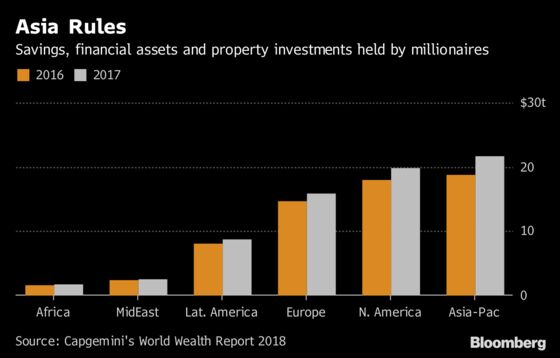 Asia is a target for private banks, with total wealth in the region reaching $22 trillion and increasing at the world's fastest pace, according to Capgemini.
The Music notes aim to pay a 5 percent annual dividend derived from royalties generated from song rights and 10 percent capital growth if the underlying stocks rise in value. Only high-net-worth, accredited investors are permitted to invest. Swiss-Asia takes a 1.5 percent annual fee and 15 percent performance fee on any gains.
The top five holdings include Hipgnosis Songs Fund Ltd., Spotify Technology SA, Vivendi SA and Japan's Line Corp. It will also add Tencent Music Entertainment Group, which this week filed for a $1 billion public listing in the U.S. Spotify ended the second quarter with 180 million monthly active users and 83 million premium subscribers, a 40 percent increase on a year ago. Casey said there are currently no funds that invest in an actively managed combination of songs, music streamers, record labels and new music IPOs.
"The streaming revolution is changing music as we know it," Casey said. "People aren't buying music any more but renting it," and as some equity markets are at record highs, "uncorrelated investments are more compelling than ever," he said.