Asia's Markets Hold Firm Against Stress-Test of Block Trades
(Bloomberg) -- Another Monday, another test for Asian markets successfully negotiated.
For a second straight week, the region's traders faced a potential drag from weekend news. And they pulled through the equity block-trade drama with little sign of panic, just as they had weathered a plunge in the Turkish lira the week before.
Asia's Monday mornings have long been a source of concern for traders because of the potentially toxic mix of negative surprises and thin trading conditions. The resilience may demonstrate some success in regulators' efforts to crisis-proof the global financial system. Yet, the increasing frequency of market tremors may also show that risks are starting to build.
"Even though the futures are down this evening, they're still way up from where they were midday on Friday," Matt Maley, chief market strategist at Miller Tabak + Co. in the U.S., said early in the Asian trading day. "So the reaction so far is quite muted. However, there is a record amount of leverage in the system and a lot of crowded trades out there. Therefore, if more of that leverage needs to be unwound, things could get a bit ugly."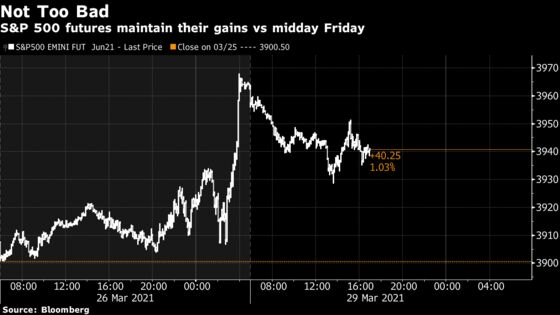 Shares in Nomura Holdings Inc. did plunge 16% Monday, as some of the world's biggest banks tallied their exposure to wrong-way bets by Archegos Capital Management. That followed an extraordinary $20 billion wave of block trades, which rattled investors Friday.
But the MSCI Asia Pacific Index of stocks eked out a gain of 0.2%, and currency markets likewise proved resilient for much of the Asian trading session.
And after that show of strength, there may be some who are watching for bargains.
"Any time you have a liquidation it will lead to an overall phenomenal buying opportunity," said Kay Van-Petersen, global market strategist at Saxo Capital Markets Pte in Singapore. "The question is, just when is that the case."