Asia Hedge Funds Brace for Lean Times as Investors Stay Away
Asia-based hedge funds are bracing for a lean quarter of capital raising as the spread of the coronavirus leads to the postponement and cancellation of key events that have historically drawn Western investors to the region.
London-headquartered Albourne Partners Ltd., a consultancy that advises pensions, university endowments and foundations that invest a combined $550 billion in alternative investments, including hedge funds, said it's seen at least 10 of its clients cancel trips to Asia in coming weeks, according to Asia head Richard Johnston.
Investors are scuppering visits as the number of new cases and deaths from the coronavirus outbreak in China surges. The U.S. has restricted travel to China and raised the alert level for Hong Kong, the largest hedge fund hub in Asia.
"You'll hardly see a visitor at least until well into April," Johnston said. "There's a big issue for a lot of people, which has caused a holdup in allocations."
Late February and March are among the peak months for international allocators to visit the region. They typically anchor trips around a few key events organized by investment banks and large asset managers, and schedule meetings with smaller firms on the side while they're in town.
Credit Suisse Group AG and Citigroup Inc. are among banks that have canceled or delayed annual investor conferences in Hong Kong and Singapore. Those usually draw thousands of participants from the region and further afield.
Many more social, marquee events in Asia have also been scrapped because of the coronavirus. While they aren't directly related to fund raisings, they're considered important networking opportunities for many financial executives.
The Hong Kong Sevens, an international rugby tournament that has been running since 1976, is set to be postponed, while Art Basel Hong Kong has been canceled. In Singapore, Asia's other hedge fund hub, the annual Singapore Yacht Show set for March has been postponed until later in the year.
Hong Kong-based PAG, one of the region's largest alternative investors with $35 billion of assets, postponed an investor day for its private-debt business scheduled to take place on March 12 in Hong Kong, spokesman Tim Morrison said.
Perseverance Asset Management, the Shenzhen-based Greater China stock manager which oversaw more than $11 billion as of August, has delayed a similar annual event set for later this month in the southern Chinese city to avoid mass gatherings amid the outbreak, Chief Operating Officer Kendrick Zhu said.
Some Hong Kong-based family offices are also slowing their allocations to funds based abroad. One worry is that if foreign governments impose sudden travel restrictions it could leave them stuck overseas during due diligence visits.
Mark Voumard, the chief executive officer of Gordian Capital Singapore Pte, a fund platform whose clients manage assets around $3.3 billion, said the virus outbreak wasn't having too much of an effect on fund inflows yet because many potential investors had met with fund managers as recently as December and video calls had been able to replace most physical meetings.
"But there are fewer investors from the U.S. and Europe visiting Hong Kong, which to a lesser extent impacts Singapore, Tokyo and Australia," he said. "If you only come out once a year and do the regional tour, Hong Kong is an important financial center."
Large institutions, especially those in North America and Europe, have accounted for the bulk of new inflows into the $3.3 trillion global hedge fund industry since the 2008 global financial crisis. Most of those big firms don't have teams based in Asia.
Asia-based hedge funds lost 5% of their assets to net redemptions last year, compared with 3% on average globally, eVestment data show. The virus is a double-whammy for Hong Kong after months-long pro-democracy protests that began mid-last year and that crippled the city's economy.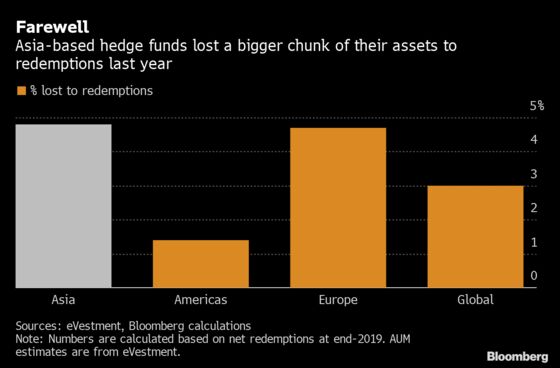 For large fund firms like PAG and Perseverance, investor days are more about information-sharing sessions for existing investors, rather than capital-raising events. Still, small regional peers benefit from all the foot traffic they bring.
Even in the age of internet and video-conferencing, some investors still require staff to visit hedge-fund managers on site before parking any money with them. Johnston said he was aware of one client who recently obtained an exception to the rule, allowing it to allocate money to a manager Albourne has been following for more than a decade.
In China, where most companies have asked staff to work from home, 81% of hedge funds say they've encounted obstacles ranging from slower trading, less efficient research and difficulties in acquiring new clients, according to a survey by consultancy Shenzhen PaiPaiWang Investment & Management Co.
Some hedge funds on the mainland have to depend on existing clients for fundraising because prospective customers can't complete required on-site bank procedures to certify them as qualified investors, the survey found.
Others that sell directly to investors said they've had to turn clients away who want to visit before buying products.