U.S. Stocks Edge Lower; Dollar, Treasuries Advance: Markets Wrap
(Bloomberg) -- U.S. stocks fell in thin trading as investors weighed corporate earnings against persistent concerns over trade and another government shutdown. The dollar extended its rally to a fifth day.
The S&P 500 declined for the first time in six sessions with volumes below the 30-day average. President Donald Trump's speech to Congress did little to remove trade and shutdown concerns, putting the focus on earnings-related moves. The Nasdaq composite slid along with Alphabet, while Electronic Arts and Take Two plunged after disappointing numbers. Microchip Technology's call for a bottom in the chip cycle boosted semiconductor makers.
Investors remained on edge with the deadline for Congress to reach a deal on keeping the government open fast approaching with little sign of compromise. There are also looming meetings in Beijing next week between U.S. trade representatives and their Chinese counterparts.
"We've had a big rally and we've got a show me market now," said Alec Young, managing director of global markets research at FTSE Russell. "China trade is the key thing that's going to get people to look at this earnings data as glass half full or half empty."
In other moves, iron ore surged to near a two-year high after Vale raised worries of a global shortfall. Crude bounced back above $53 a barrel in New York. Bloomberg's dollar index headed for its best run in more than two weeks. The 10-year Treasury yield fell.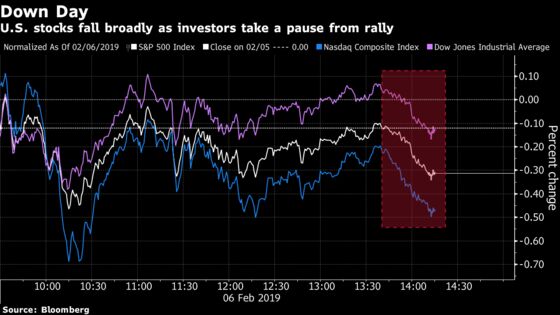 European stocks edged higher, capping a seventh day rising as technology stocks rallied on some upbeat company reports. Carmakers were among the laggards after Daimler AG's cautious tone reignited concern about global trade. Bonds across the region were range bound, though Italian notes slipped as the country sold new debt. Iron ore rallied toward $90 a metric ton after Brazil's Vale SA declared force majeure on some contracts, raising the prospect of a deficit of the commodity this year.
Global equities are close to levels not seen since November, in part spurred by the Federal Reserve's tilt toward a neutral policy stance. Further clues on what 2019 holds may come Wednesday from Chairman Jerome Powell's first public comments following the January meeting and interest-rate decision.
Among key events in the coming days:
Markets are closed in China, Hong Kong, Korea, Malaysia, Singapore, Taiwan and also in New Zealand
Earnings season continues, with reports from Twitter, MetLife and Societe Generale
Central banks in India and the U.K. set rates this week
These are the main moves in markets:
The S&P 500 fell 0.2 percent as of 4 p.m. in New York.
The Nasdaq 100 lost 0.4 percent and the Dow Jones Industrial Average declined 0.1 percent.
The Stoxx Europe 600 Index increased 0.2 percent.
The MSCI All-Country World Index fell 0.3 percent, the first retreat in more than a week.
The MSCI Emerging Market Index lost 0.4 percent.
The Bloomberg Dollar Spot Index increased 0.4 percent, reaching the highest in almost two weeks on its fifth straight advance.
The euro decreased 0.4 percent to $1.1365, the weakest in almost two weeks.
The British pound gained 0.1 percent to $1.2938, the first advance in a week.
The Japanese yen was little changed at 109.97 per dollar.
The yield on 10-year Treasuries was steady at 2.69 percent.
Germany's 10-year yield declined less than one basis point to 0.17 percent.
Britain's 10-year yield decreased one basis point to 1.224 percent.
Japan's 10-year yield fell less than one basis point to -0.013 percent, the lowest in more than a month.
West Texas Intermediate crude rose 0.6 percent to $53.99 a barrel.
Gold declined 0.7 percent to $1,310.50 an ounce.