U.S. Stocks Fall on Pessimism Over Trade, Growth: Markets Wrap
(Bloomberg) -- Sign up for our new China newsletter, a weekly dispatch on where China stands now and where it's going next.
U.S. stocks slid as investors grew anxious that the Trump administration won't reach a trade deal with China before a March deadline for escalating the war. Treasuries surged.
The post-Christmas rally that added 16 percent to the S&P 500 came under increasing pressure amid reports the two trading partners remained far apart on a deal and that the nations' presidents won't meet before higher tariffs are slated to take effect on Chinese goods next month.
Stocks opened lower after official European forecasts signaled a slowdown in the region's economy and amid concern the American government remains on track for a shutdown next week. The news from Europe slammed German assets, sending the DAX Index by the most since October and bund yields to the lowest since 2016.
"When you get these numbers coming out of Europe, it just reminds you, 'Well, gee, that's an issue and it's symptomatic of all of this prevailing view that the global economy is slowing down,''' said David Joy, chief market strategist at Ameriprise Financial. "I would consider China and what happens with China to be the major macro issue confronting U.S. stocks in the short term."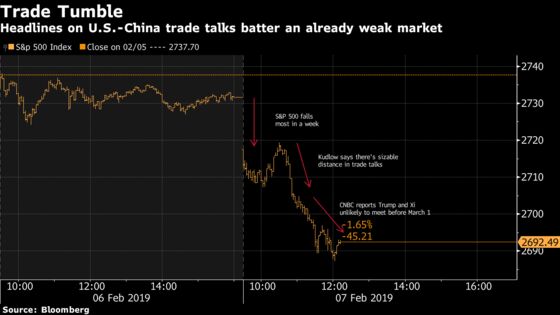 Investors are struggling to find fresh impetus for extending the 2019 rally in risk assets ahead of U.S.-China trade discussions next week. In Washington, there was little progress on the domestic front with the deadline approaching for Congress and the White House to reach a deal on keeping the government open. Asian traders remain hamstrung by a dearth of activity as many markets remained shut for Lunar New Year.
Crude slumped below $53 a barrel in New York and the 10-year Treasury rate slipped to 2.66 percent. The pound reversed losses after the Bank of England left rates unchanged and cut its growth forecast for the U.K. economy. Earlier in Japan, shares fell amid a raft of corporate earnings.
Among key events in the coming days:
China, Taiwan, Hong Kong and Vietnam are among markets closed for holidays
These are the main moves in markets:
The S&P 500 fell 0.9 percent at 4 p.m. in New York.
The Nasdaq 100 slid 1.3 percent and the Dow Jones Industrial Average lost more than 200 points.
The Stoxx Europe 600 Index fell 1.5 percent, the first retreat in more than a week.
The MSCI World Index of developed countries decreased 1.1 percent, the largest dip in more than a week.
The MSCI Asia Pacific Index fell 0.4 percent.
The Bloomberg Dollar Spot Index rose 0.2 percent with its sixth straight advance.
The euro fell 0.2 percent to $1.1343.
The British pound added 0.2 percent to $1.2951.
The MSCI Emerging Markets Currency Index fell 0.3 percent, reaching the lowest in more than a week.
The yield on 10-year Treasuries fell four basis points to 2.65 percent, the lowest in a week on the largest fall in a week.
Germany's 10-year yield fell five basis points to 0.11 percent.
Italy's 10-year yield rose nine basis points to 2.945 percent.
Gold futures were little changed at $1,313.60 an ounce.
West Texas Intermediate crude decreased 2.5 percent to $52.65 a barrel.
Bloomberg's commodity index lost 1.2 percent.