Stocks Fall as Virus Volatility Grips Wall Street: Markets Wrap
(Bloomberg) -- U.S. stocks fell for a fifth day, the longest losing streak since August, while Treasury 10-year note yields dropped to another record low as investors weathered a barrage of reports on the widening coronavirus outbreak.
The S&P 500 closed down 0.4%, after plunging more than 3% each of the previous two days. The Dow Jones Industrial Average dropped 122 points after tumbling almost 2,000 points on Monday and Tuesday, while the Nasdaq Composite rose. European shares pared losses to close mostly higher, while Asian equities finished in the red. Oil dropped below $50 a barrel and gold edged higher.
"No one has any idea the depth and duration of the coronavirus' negative impact on the global economy and corporate earnings," said Alec Young, managing director of global markets research at FTSE Russell.
President Donald Trump and federal health officials plan to brief the U.S. public Wednesday on efforts to prevent the spread of the coronavirus. Health officials in Nassau County on New York's Long Island are monitoring 83 people who have visited mainland China or may have come in contact with the virus. Earlier, German and American officials warned of a pandemic. Diageo Plc and Danone SA said that the outbreak will hit sales in China. The first cases in Greece and in South America emerged, while Spain locked down a seaside resort hotel with about 1,000 guests and workers inside.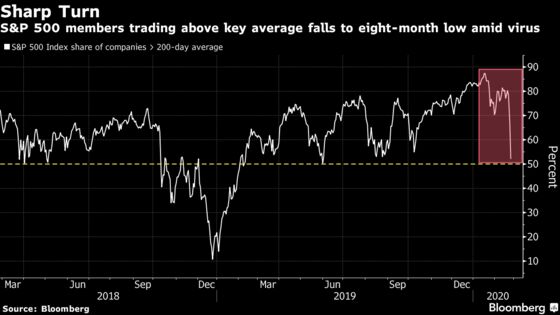 Risk assets are struggling to rebound as coronavirus cases steadily climb outside the epicenter in China. South Korea said its national total rose to more than 1,000, while American health officials Tuesday warned that they expect the epidemic to spread in the U.S.
Traders may be looking out for further signs of policy accommodation after American central bankers said they are closely monitoring the spreading virus, though it's "still too soon" to say whether it will change the outlook.
"People are taking a step back and reviewing the data and seeing how much this coronavirus is progressing," said Michael Reynolds, investment strategy officer at Glenmede Trust Co.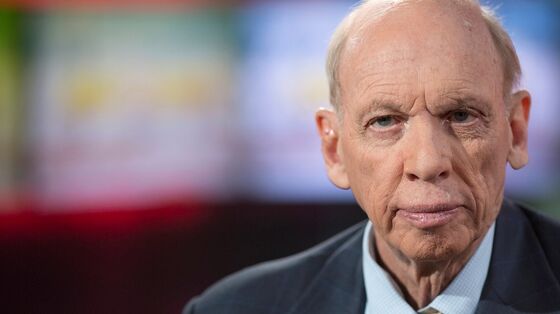 Elsewhere, a gauge of high-yield credit risk for European issuers rose for a fifth day. Industrial metals and minerals mostly dropped, including copper and iron ore. Bitcoin slumped for a third day.
These are some key events coming up:
Earnings keep rolling in from companies including: Baidu Inc., Best Buy Co. Inc., Occidental Petroleum Corp. and Dell Technologies Inc. on Thursday; and London Stock Exchange Group Plc on Friday.
The Bank of Korea announces its policy decision on Thursday, with rising risks of an interest-rate cut.
U.S. jobless claims, GDP and durable goods data are out Thursday.
Japan industrial production, jobs, and retail sales figures are due on Friday.
These are major moves in markets:
Stocks
The S&P 500 Index decreased 0.2% to 3,116.43 as of 4:06 p.m. New York time, hitting the lowest in more than 11 weeks with its fifth consecutive decline.
The Dow Jones Industrial Average declined 0.5% to 26,957.86, reaching the lowest in more than four months on its fifth consecutive decline.
The Nasdaq Composite Index increased 0.2% to 8,980.77, the first advance in a week.
The MSCI All-Country World Index sank 0.6% to 539.88, reaching the lowest in more than 16 weeks on its fifth straight decline.
The Stoxx Europe 600 Index was little changed at 404.62, the first advance in a week.
Currencies
The Bloomberg Dollar Spot Index climbed 0.2% to 1,215.37.
The euro was little changed at $1.0884, the strongest in almost two weeks.
The Japanese yen weakened 0.2% to 110.45 per dollar.
The British pound fell 0.8% to $1.2901, the largest fall in three weeks.
Bonds
The yield on 10-year Treasuries sank four basis points to 1.35%, reaching the lowest on record with its fifth straight decline.
The yield on 30-year Treasuries dipped three basis points to 1.83%, hitting the lowest on record with its fifth straight decline.
Germany's 10-year yield rose one basis point to -0.51%.
Britain's 10-year yield decreased two basis points to 0.504%, hitting the lowest in almost 20 weeks with its seventh straight decline.
Commodities
Gold strengthened 0.2% to $1,639.29 an ounce.
Copper decreased 0.5% to $2.57 a pound, the lowest in two weeks.
West Texas Intermediate crude dipped 2.9% to $48.72 a barrel, the lowest in 14 months.