As Wirecard Gets Bigger, So Does the Target on Its Back
(Bloomberg) -- Wirecard AG rose from obscurity to the ranks of Germany's corporate elite in two decades and is now learning the risks of being a big target.
The digital payments company -- which supplanted 149-year-old Commerzbank AG in Germany's benchmark DAX index last year -- has been rocked by allegations of executive fraud. German financial regulator BaFin said Thursday it will look into the issue for signs of possible market manipulation.
While Wirecard denied claims made in a story by the Financial Times, concerns about the fast-growing company's business practices knocked as much as 25 percent off its value on Wednesday. Lawyers for the company contacted Munich prosecutors late on Wednesday to discuss the case. For now, the authority sees no indication of a crime by Wirecard under German law, a spokeswoman for the prosecutors said.
"It all raises more questions than answers," Neil Campling, a London-based analyst with Mirabaud Securities, said in a note. "Who knows where the next plot twist takes this story, but we remain sellers of Wirecard for a multitude of reasons."
The stock rose 2.6 percent to 148.95 euros at 12:39 p.m. in Frankfurt on Thursday, a muted rebound after closing down 13 percent the previous day despite the company's denial.
It's not the first time that the company has had to defend its reputation. The shares plunged after past claims were published about accounting irregularities in 2008 and fraud allegations in 2016. But analysts have stayed true to the company, with 79 percent recommending investors buy the stock, according to data compiled by Bloomberg.
"It is the same as we have seen before," said Markus Friebel, an analyst at Independent Research. "Allegations come out, and we don't know if they are true or not."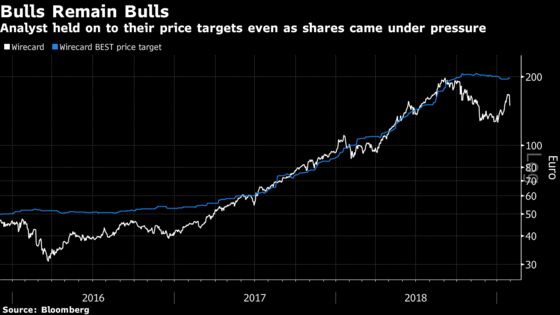 Wirecard operates in the tangled world of online payments. Founded in 1999, the company initially provided financial services to online gambling and adult websites, barely surviving the dot-com bust. It's now threatening traditional financial services and is worth more than Deutsche Bank AG, Germany's largest lender.
"Wirecard's business model can be hard to understand at times, and it's easier to criticize a company whose sales are difficult to pin down," said Mirko Maier, an analyst at LBBW. "Wirecard is not an automaker where you see cars leaving the factory each day."
At the heart of Wirecard's strategy is the notion that cash is becoming obsolete. Run by Chief Executive Officer Markus Braun since 2002, the company has made a series of acquisitions including buying Citigroup Inc.'s Prepaid Card Services business in 2016. The stock has quadrupled over the past three years -- making Braun, who owns about 7 percent in the company, a billionaire.
The FT reported that a senior Wirecard executive in Singapore was suspected of using forged contracts for several suspicious transactions. The company, which is used to pushing back against such allegations, called the story "false, inaccurate, misleading and defamatory."
Scenarios in which short sellers profited from publications that caused Wirecard shares to slump have prompted two criminal cases in Germany. The latest was a probe over a 101-page report published in 2016 on the website of Zatarra Research, a U.K.-based entity. Prosecutors last year asked a Munich court to impose a fine against one of the suspects behind the report, while settling with a second for 35,000 euros.
In 2008, Munich prosecutors raided the premises of investor advocacy group Schutzgemeinschaft der Kapitalanleger over similar claims. The former head of the organization -- a journalist who allegedly held a short position on the stock -- had published allegations over Wirecard's accounting practices. He was convicted in 2012 trial covering 200 cases of market manipulation.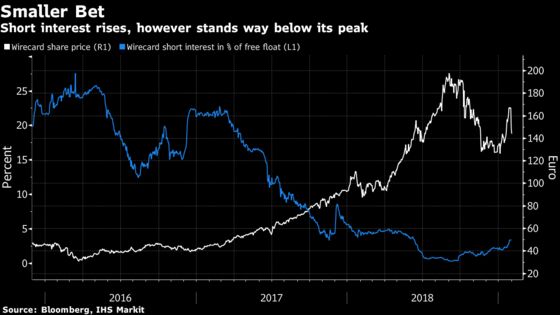 An Austrian national and a computer scientist by training, CEO Braun made a priority of growing Wirecard in Asia, hitching a ride on the region's growing middle class. Asia now generates over 40 percent of revenue.
Braun has called cash "nonsense" and argues that when it's used, retailers lose contact with customers once they're out the door, meaning a shop won't know what to promote when they come back. The irony of having such a mission in Germany, where people still hoard euros (and even Deutsche marks), isn't lost on the company, but it isn't slowing them down either.
"We Germans love our cash," said LBBW's Maier. "But there's much more willingness to use digital payment solutions in places like Asia -- and Wirecard has recognized that early on and expanded there."