As Wall Street Frets, Mom and Pop Dip Toes Back Into Stocks
(Bloomberg) -- Trade hopes. Fed doves. Earnings growth. Whatever the reason, investors on Main Street appear ready to go where many on Wall Street still fear to tread.
The latest data from TD Ameritrade suggest mom and pop increased their exposure to U.S. equity indexes for the first time in five months in February. They continued to move away from single stock exposure, even as share-picking strategies outperformed in the late cycle environment.
The signal is weak -- retail investors remained net equity sellers overall -- but suggests emerging confidence that the broad rally may have room to run. That's a stark contrast to the actions of the so-called fast money, which has remained stubbornly contemptuous of the 2019 gains.
"They think the market's going higher, but because of the uncertainty of tariffs, they don't necessarily want to pick individual winners and losers," Joe "JJ" Kinahan, the chief market strategist at TD Ameritrade, said by phone. "They're much bigger buyers of the overall market than they are of the individual equities."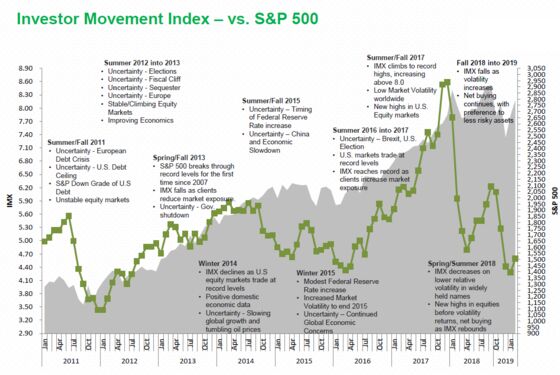 The positioning shift is all the more notable because the S&P 500 Index averaged 2,752.33 in February, the highest since October. The gauge fell to 2,786.42 as of 2:49 p.m. in New York, erasing almost all of Friday's gain.
After years of outflows from active funds and inflows to passive investment vehicles, evidence earlier this year had showed investors increasingly turning to stock picking. But the TD Ameritrade data isn't the only sign of a return to the norm: In the week ended Feb. 22, Bank of America's private clients sold single stocks for the first time in 2019, while buying exchange-traded funds.
As TD Ameritrade's Investor Movement Index posted the first monthly gain since September, data also showed users of the brokerage platform scooped up popular broad equity market ETFs such as the SPDR S&P 500 ETF Trust and the Invesco QQQ Trust Series 1, according to Kinahan. Clients also bought fixed-income products, the firm said in a statement.
"With earnings season at our backs, it will be interesting to see how economic data, geopolitical events and headline news impacts the momentum we started seeing in February," Kinahan wrote.