As New York Snatches Brazil IPOs, Local Exchange Fights Back
(Bloomberg) -- The head of Brazil's only stock exchange is drawing a line in the sand after Brazilian companies defected to New York last year with more than $5 billion of equity offerings.
Gilson Finkelsztain, chief executive officer of B3 SA-Brasil Bolsa Balcao, said he's gearing up for a fight, especially as XP Investimentos SA -- one of the hottest firms in the local finance industry -- is considering a Nasdaq listing sometime this year.
"We are going to do everything for XP to list itself here in Brazil and not in New York; our commercial team and myself personally are going to fight for that," Finkelsztain said in an interview. "XP is a flagship, a huge success story that proved there's space for an independent brokerage firm in Brazil. It should list itself here."
Finkelsztain faces obstacles. They include tax benefits for Brazilian firms based abroad and regulations that prevent such companies from being traded on the local exchange.
"We are working with the regulator CVM to make some rules more flexible, and they are very sensitive to what we call an exportation of the market," Finkelsztain said.
The exchange chief conceded that Brazilian deals last year fetched better initial valuations by listing in New York. Offerings came from payments fintech firms PagSeguro Digital Ltd. and StoneCo Ltd. and education company Arco Platform Ltd., which raised more than $5.34 billion in initial and secondary equity offerings on the New York Stock Exchange and Nasdaq last year without also listing their shares in Brazil.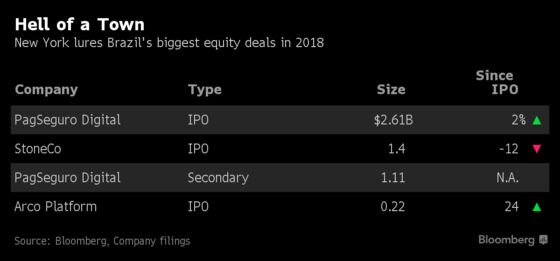 XP, the nation's biggest brokerage for middle-class investors, is looking to those success stories as it considers an initial public offering on the Nasdaq, according to a person familiar with the matter. The IPO would provide an exit for private equity investors such as General Atlantic LLC and Dynamo Administracao de Recursos Ltda, the person said, asking not to be identified because no official announcement has been made.
Because investors who specialize in the technology sector are concentrated in the U.S., many tech companies decide to list there. "This is an international trend, and affects companies from Japan to Israel to Australia," Finkelsztain said. "And that is not good for Brazilian markets."
Even though B3 doesn't have any local competitors, "we are competing with exchanges, with markets, all over the world," he said.
There is also a tax incentive for companies to establish their domicile outside Brazil, and "that's something that needs attention," he said.
Finkelsztain said he's working with CVM to develop "a more friendly environment" that would permit the Brazilian companies listed in New York to be traded in local markets as well. "So local funds wouldn't need to buy dollars and go to U.S. markets to buy shares from those local companies," he said. B3 could earn a fee for each such trade.
Local companies domiciled abroad with more than 50 percent of revenue coming from Brazil aren't allowed to issue BDRs, Brazil's version of American Depositary Receipts, Finkelsztain said. One solution would be to allow those companies to list in Brazil simultaneously, he said.
To increase the attractiveness of local IPOs, B3 is also considering "confidential filings" for smaller companies. In those transactions, the company can back out if the market turns against it or the price is unattractive, without suffering the damage to its reputation that a public retreat might spur.
Finkelsztain said some Brazilian companies have tried to "disguise themselves as tech companies" when they list in the U.S., to piggyback on that industry's cache with investors. "But investors will soon realize that, and then the firms will have problems," he said.
Although the Brazilian fintechs' initial valuations were very attractive, performance since the IPOs have been less than stellar, he said. PagSeguro's shares are up 2.4 percent since its IPO, while StoneCo -- whose shares attracted the likes of Warren Buffett and Jack Ma -- fell 12 percent. In contrast, an IPO by Banco Inter, a banking fintech that raised 672.4 million reais ($181 million) in April at B3, has more than doubled since then in local currency terms.
"PagSeguro and StoneCo's shares have a big correlation to Amazon.com," he said, noting that even though those companies get most of their revenue in Brazilian currency, they tend to react more to moves in global tech giants than in the real.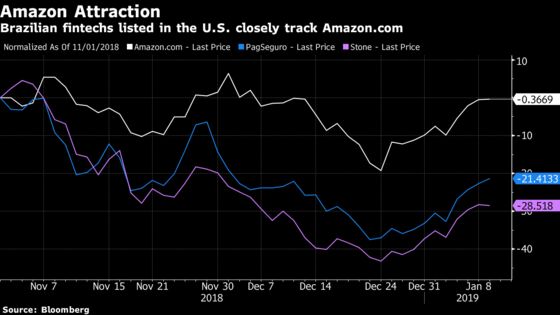 Inflation under control and interest rates at record lows add fuel to economic growth, and the stock business at B3 will probable benefit, Finkelsztain said. He expects 20 to 30 equity deals this year, starting in March. Equity trading represents about 40 percent of B3's revenue, he said.
The over-the-counter business, which includes registering, trading and providing custody services for corporate and bank bonds and derivatives, may be a highlight this year, Finkelsztain said. This business represents about 25 percent of the firm's revenue, with another 25 percent coming from futures traded on the exchange. Demand for currency hedges may decline with lower volatility, he said.
On Brazil's new government, Finkelsztain said he's "very enthusiastic" because the economic team has an "all-aligned pro-market view" and wants to reduce state intervention and encourage privatization. "They recognize the urgency in approving social security reforms, and have the political strength to do that in the first three to six months of the government."