As Japan Stocks Stabilize, BOJ's ETF Buying Is at Lowest Since 2016
(Bloomberg) -- The Bank of Japan may be paring purchases of exchange-traded funds to take advantage of the stock market's stability.
On each of the four days that it conducted operations this month, the BOJ bought 70.2 billion yen ($631 million) of regular ETFs tracking Japanese shares. That was the lowest daily amount since the central bank doubled its annual buying target in July 2016.
Analysts point out that the reduction doesn't signal the central bank is tapering its ETF buying program, as the BOJ has said that it may increase or decrease purchases depending on market conditions. In fact, an increasing number of economists see additional stimulus as the next policy step, while they are unanimous in forecasting no change at this week's board meeting.
Still, the cut in ETF purchases may signal the BOJ's desire to taper buying when market conditions allow, according to Masahiro Ichikawa, a senior strategist at Sumitomo Mitsui Asset Management in Tokyo. Most of the economists in a Bloomberg survey still expect the BOJ to eventually tighten policy, though they have been pushing back the timing for this change.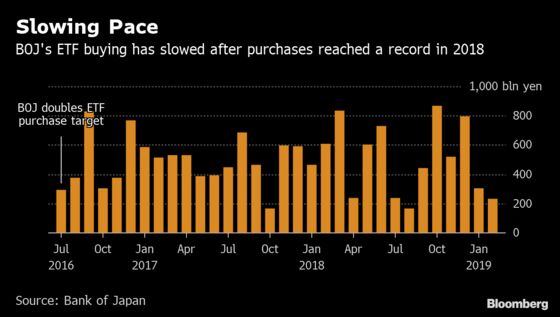 "This isn't stealth tapering," Ichikawa said. "Although the BOJ hasn't changed its stance that it would buy promptly when the markets sway considerably, this could indicate its basic position that it wants to reduce ETF buying whenever possible."
The BOJ stepped up purchases in December when a global rout sent Japanese stocks into a bear market, buying a record 6.5 trillion yen of ETFs last year. With the Topix up more than 6 percent this year, the BOJ has slowed buying in the past two months. It bought 830 billion yen of ETFs through Wednesday this year, compared with 1.3 trillion yen during the equivalent period in 2018.
Norihiro Fujito, the chief investment strategist at Mitsubishi UFJ Morgan Stanley Securities Co. in Tokyo, also said the latest reduction of buying isn't stealth tapering but illustrates the BOJ's flexibility. There's a possibility that the BOJ may increase its annual target on ETF purchases if global stocks are rocked by a potential deterioration in the U.S. economy while Japan prepares to increase a sales tax, he said.
On March 6, BOJ board member Yutaka Harada said that if risks to Japan's economy materialize or a hit to price growth proves to not be temporary, the BOJ wouldn't hesitate to step in.
"Japan's economic sentiment is worsening, and some BOJ board members are voicing that they won't hesitate to take action," Fujito said. "If the global equity markets become volatile again, the BOJ may have little choice but to increase its ETF target as its next policy step."