As Growth Picture Darkens, Goldilocks Makes Every Asset Win
(Bloomberg) -- Perhaps investors decided it's mere coincidence. That the hum from Frankfurt factories should fade a little as the ships leave South Korea a touch higher in the water. That China lowers its growth target around the same time Italy confirms a recession.
Or maybe they decided it doesn't matter much when the Federal Reserve has your back.
Whatever their reasoning, the outcome is clear: Even as the outlook for global growth gets darker by the day, every major risk-on asset class is not only in the green this year -- it's beating inflation along the way.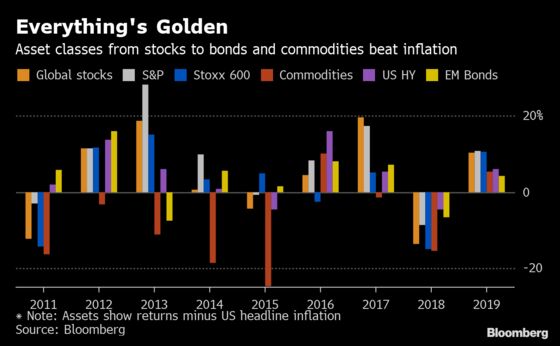 The last time all the markets in the chart above finished the year higher in real terms? The post-crisis relief rally of 2010, fueled by gigantic monetary stimulus.
Strip out headline price increases and the S&P 500 Index has returned more than 10 percent so far this year. The Bloomberg Commodity Index has delivered 5 percent. Emerging-market dollar bonds, American high-yield credit... the list goes on.
"We're back in the Goldilocks scenario, with China being a game-changer recently," said Sophie Huynh, a cross-asset strategist at Societe Generale in London. "For now, I believe in the Fed put, which, combined with China lending a hand to its economy, is clearly supportive for risky assets."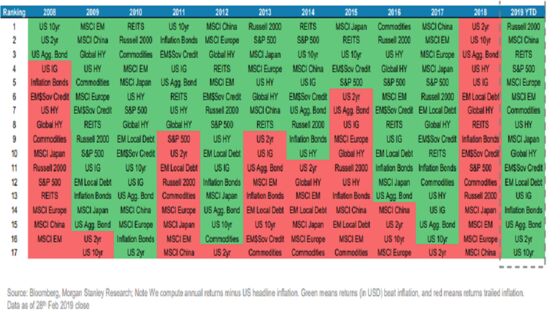 Yet all the while, disappointing economic data trickles in.
As Italy confirmed its recession, Germany barely escaped one. China's stimulus measures follow industrial data showing a deepening contraction, and the U.S. business cycle is the second-longest on record. The gloomy picture was confirmed on Wednesday by the Paris-based Organization for Economic Cooperation and Development, which cut its global growth expectations for this year to 3.3 percent from 3.5 percent.
"Global growth momentum is slowing and it will take more than a trade deal to turn that around," said Ole Hansen, the head of commodity strategy at Saxo Bank A/S. For rallying assets, "a lot hinges on the response from central banks," he said.
But markets are now locked in a lose-lose battle with policy makers, according to HSBC Holdings Plc. If growth cools, yet-more dovish monetary redress would in all likelihood be greeted with a sell-off -- and higher real interest rates spurred by a brighter economic outlook would disrupt bulls.
"The Goldilocks era -- i.e. no overly strong growth but no fears of an imminent recession either -- is equally unlikely to return for the whole of 2019," strategists including Max Kettner wrote in a note.