As Global Stocks Sink, Philippine Index Takes Hit to Fresh Low
(Bloomberg) -- Philippine stocks have reached a new low.
The benchmark Philippine Stock Exchange Index sank as much as 3 percent to 6,790.58 on Thursday, surpassing the previous bottom hit in June. Marred by a record streak of foreigners' withdrawals and and local investors staying on the sidelines, the benchmark gauge was already suffering before the global sell-off started Wednesday. It pared its loss to 1.7 percent, closing at its lowest level since January 2017.
"There is no incentive to come in as foreign funds are still mostly sellers while many locals are hesitant to step in," said Steven Ko, a trader at Rizal Commercial Banking Corp., which has 60 billion pesos ($1.1 billion) under management. "Better to be prudent and use the time to carefully select the names to pick up. We raised funds going into this dip and hold an aggressive cash position that we intend to deploy selectively."
SM Investments Corp. and Ayala Land Inc. contributed the most to the declines on Thursday as the MSCI Asia Pacific Index fell 3.5 percent following the biggest S&P 500 Index plunge since February. Overseas funds have pulled money from Philippine shares for 31 straight days, taking the total withdrawals to more than $1.6 billion for 2018. About 4.3 billion pesos of stocks traded this month on average each day, compared with 6.5 billion pesos this year through September, according to stock-exchange data.
The sell-off in the U.S. only worsened sentiment for the Philippine stock market, which has become one of the world's worst performers as inflation hit a nine-year high, the peso sank and the central bank's response to address the situation was deemed slow. Earnings growth at companies in the index needs to reach at least 6 percent to 8 percent for the gauge to sustain a rally toward 7,300 to 7,500, according to Robert Ramos, chief investment officer of East West Banking Corp.
"The stock market has not been performing as we expected; at the same time, the currency has taken a beating," Ramos said in a Bloomberg TV interview with David Ingles and Yvonne Man on Oct. 10. "Foreign investors most likely will take their money and go elsewhere, where the markets are better and the currency is appreciating."
With equity valuations now at their lowest since June 2012, Ramos cautioned against buying the dip. He expects property and infrastructure stocks to do better this quarter and into next year. The former serve as an inflation hedge, while the latter could benefit from a pickup in government projects, he said.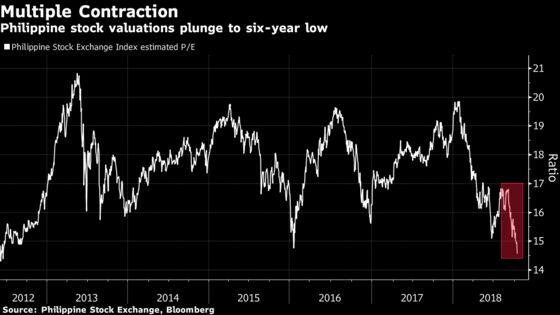 "At this point, I'd be more watchful," Ramos said.
The index could fall to 6,750 "given the lack of market-stirring positive developments," according to Manny Cruz, an analyst at Asiasec Equities Inc.
"Demand seems to have dried up," he said. "There's continued selling from foreign funds, while there isn't much participation from local investors as they stay on the sidelines. With U.S yields rising and offering better opportunities, foreign funds will continue to head for the exit, so it's best to wait."