As European Profits Disappoint, Some Hope for Santa Magic
(Bloomberg) -- European stocks just can't seem to escape the bunker.
According to HSBC Holdings Plc strategists, just 54 percent of the European companies that reported earnings this season beat profit expectations, which is the lowest share of positive surprises since the end of 2015. Considering that European equities are already the least-loved region this year because of political and trade concerns, mediocre profits would seem to be the last straw. The Stoxx Europe 600 Index was down 0.3 percent on Monday, adding to Friday's pull-back.
But it's exactly this fact that makes some European stock bulls optimistic about the prospects of an end-of-the-year rally. According to Barclays Plc and Joh Berenberg Gossler & Co. KG, the valuations of European equities are so depressed that poor earnings results are already priced in and the market is begging for a recovery.
According to Citi strategists, half of the Stoxx Europe 600 companies are in bear market territory, a level not seen since market crises in 2011-2012 and 2008-2009.
"The reporting season was somewhat disappointing, given the many profit warnings," Ulrich Urbahn, head of multi-asset strategy and research at Berenberg in Frankfurt, said by email. "However, positioning is quite light, valuations are moderate and buybacks as well as price momentum are turning more positive."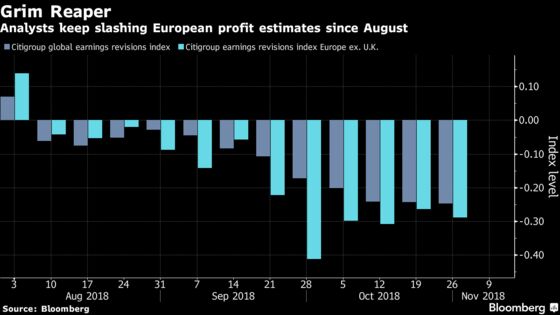 Investors had been warned about this earnings season well ahead of time. Analysts have been slashing their 2018 estimates for the region's profits since August, Citigroup Inc.'s Earnings Revisions Index shows, recently cutting forecasts by the most in more than two years. Based on Bloomberg data, earnings growth expectations for the Stoxx 600 Index companies in 2018 have dropped to 5.9 percent currently from 8.3 percent at the start of the year.
Just last week, UniCredit SpA's third-quarter net income missed the lowest estimate as the lender took a 850 million-euro ($972 million) charge on its Turkish business. BMW AG also disappointed the market, as the world's second-biggest luxury carmaker warned investors about challenges ranging from trade wars to Brexit fallout. And jewelry maker Pandora A/S missed analyst estimates and cut its full-year outlook.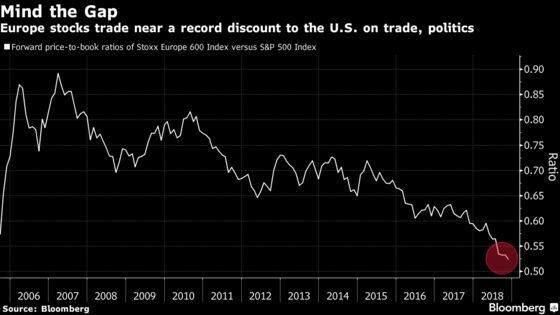 Although Morgan Stanley says this earnings season is likely to be the worst for Europe since 2014, corporate profits improved as the end of the reporting period approached. That "suggests things aren't quite as gloomy as feared," strategists led by Graham Secker said in a note.
Strategists surveyed by Bloomberg see the Stoxx 600 Index rising about 8 percent by the end of the year, a forecast that is likely based on hopes of a U.S.-China trade deal and an absence of new political shocks, such as the Italian budget crisis or a poor Brexit deal.
"Sentiment is too depressed relative to what we see as likely incoming political and economic reality," William Hobbs, head of investment strategy at Barclays Investment Solutions in London, said by email. "And even if there's no U.S.-China deal this year, we expect a Santa rally into the end of the year, and continental Europe should lead the way."