Emerging-Market Sneeze Puts Developed World Immunity in Doubt
(Bloomberg) -- As the sell-offs in Turkey and Argentina spread to other emerging markets, doubts that developed markets can retain their immunity are getting louder.
JPMorgan Chase & Co. says the vulnerability of mature markets to contagion emanating from developing nations hinges on Asia's economic resilience. At ING Groep NV the risk is that monetary tightening in many emerging economies could eventually crimp growth and have a knock-on impact for advanced economies.
Emerging markets are out of favor among investors this year amid concerns ranging from tighter U.S. monetary policy to a raft of idiosyncratic risks including Argentina's fiscal woes and Turkey's twin deficits. While risk of contagion has risen among developing economies, the worry that bigger countries aren't immune to such risks are rising, says Rob Carnell, chief Asia economist at ING in Singapore.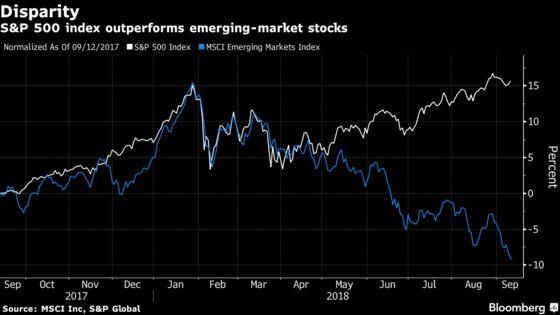 "A global emerging-market downturn could be enough to weigh on those asset prices" in developed markets, said Carnell. "Developed markets are living on borrowed time to some extent." When they start to crumble, gold, which has been an underperformer, could be worth looking at, he said.
Outside of Hong Kong, most developed markets are holding up relatively well. The S&P 500 index is hovering near record highs, having had five consecutive months of positive returns, while the MSCI Emerging Markets Index of shares has tumbled more than 20 percent from its January high. The MSCI Emerging Markets Currency Index has lost about 6 percent this year, set for its first annual loss in three years.
Declines in emerging-market currencies have prompted some central banks to defend currencies by raising interest rates, which sets back growth, ING's Carnell said. While the crisis in Argentina and Turkey began as home-grown problems, the stress has spilled over to markets such as Indonesia as investors' herd mentality drive them to even sell those with better fundamentals, he said.
The European Central Bank is set to tweak its forecasts for euro-area economic growth as global trade tensions damp external demand, according to officials familiar with the latest projections. The U.K. and Turkey are among nations dragging on demand, though the U.S. outlook is still positive, officials said.
For JPMorgan, the knock-on effect into advanced economies from a severe downturn in the emerging world would be dependent on Asia, which has been resilient so far and which is much more integrated with the U.S, Japan, Australia and New Zealand, analysts including Daniel Hui and Patrick Locke wrote in a report.
Should the trade conflict between the U.S. and China reach a point where there is a material disruption and negative impact on supply chains, Asia and developed markets will be relatively more vulnerable, they wrote.
"Asia is a huge global player," ING's Carnell said. "If you take Asia out of the global economic picture you don't have very strong global economic growth."
For Bank of New York Mellon Corp., the ability of developed markets to continue to decouple from the concerns in emerging markets will largely be based on the continuation of the positive trends in U.S. growth and strong earnings, Marvin Loh, the firm's senior global market strategist in Boston wrote in a note.
"We'll find out just how strong those profit numbers are if the trade war carries on," Carnell said. "Developed-market asset prices are still incredibly high. At some point, you have to think there has to be a correction."