As Credit Concerns Grow, Short-Term Bond ETFs See Huge Inflows
(Bloomberg) -- As the corporate credit market flashes caution signs, exchange-traded fund investors are seeking shelter in short-term bond funds.
The JPMorgan Ultra-Short Income ETF, known by its ticker JPST, saw its third-largest inflow for the past year on Friday, with more than $233 million coming in. And the SPDR Bloomberg Barclays 1-3 Month T-Bill ETF, or BIL, which tracks short-term U.S. government debt, saw its second-largest cash infusion in at least the last five years. Investors poured around $581 million into BIL on Friday, just shy of its record, which it reached at the end of last month.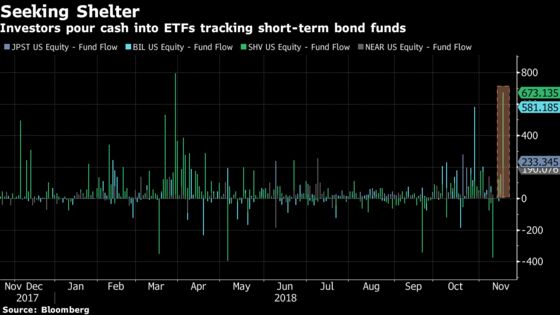 That's not all. The iShares Short Treasury Bond ETF, ticker SHV, attracted more than $673 million on Friday, also its second-largest inflow this year. And the $5.5 billion iShares Short Maturity Bond ETF, or NEAR, saw inflows of around $190 million, the most since July. Together, the four funds took in around $1.5 billion on Friday alone.
"It's the same trend we have seen for most of the year. Investors are getting out of high yield and investment grade corporate debt and into shorter duration treasuries as the yield curve remains flat," said Mohit Bajaj, director of exchange-traded funds at WallachBeth Capital. "They are reallocating into less risky instruments with further concern in the market."
Dumping Junk
At the same time, investors pulled more than $992 million from the $7.6 billion SPDR Bloomberg Barclays High Yield Bond ETF, ticker JNK, for the week ended on Nov. 16. That was the largest weekly outflow for the fund since February. And the $13.6 billion iShares iBoxx High Yield Corporate Bond ETF, or HYG, saw $1.15 billion drain away last week, the most since April.
Christian Fromhertz, chief executive officer of Tribeca Trade Group, echoed that sentiment that investors are seeking less risky funds, saying that "credit spreads are widening" and "people are starting to get concerned about credit risk."