ARKK Copycat Is Beating Cathie Wood's Original by 10-Fold
(Bloomberg) -- A tiny ETF tracking innovative companies is quietly outpacing one of the most famous investments on Wall Street.
The Direxion Moonshot Innovators ETF (MOON) has risen 39% this year, compared to ARK Innovation ETF's 3.5% gain, according to data compiled by Bloomberg.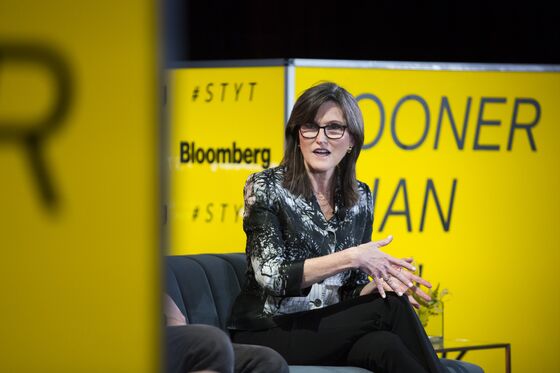 Cathie Wood's flagship fund, known by its ticker ARKK, became one of the top-performing exchange-traded funds in the past year thanks to big bets on tech firms that she believes will disrupt their industries. That's spawned at least half a dozen new products that similarly invest in innovation but use different tactics.
Wood's funds, especially ARKK, have faced turbulence in recent weeks as tech got hit by valuation-fears caused by rising yields. MOON and some other copycats have avoided much of that by loading up on biotechnology, with holdings like ImmunityBio, Inc., which focuses on immunotherapy products, up 131% this year.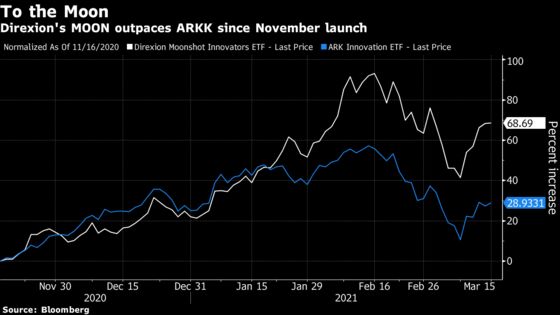 MOON "has a heavier weight to biotech companies and less on straight technology and internet companies, which are the reason why ARKK has underperformed," said Mohit Bajaj, director of ETFs for WallachBeth Capital.
Launched in November, MOON has risen roughly 70% since then, yet has attracted only about $220 million in assets. ARKK's haul of more than $7 billion so far this year has put its total above $24 billion.
The definitions of "innovation" and "disruption" are in the eye of the beholder, so funds can embrace those themes in different ways. In the case of ARKK, that focus is narrower and its active management structure gives Wood the ability to alter positions based on the latest companies performing well.
Yet ARKK's large stakes in firms like Tesla Inc., Square Inc. and Roku Inc. dragged it down in the past month, with the automaker, for instance, slumping more than 36% from its January high before rebounding 26%.
MOON's passive fund tracks the S&P Kensho Moonshot Index of the 50 most-innovative companies in sectors ranging from smart transportation to human evolution.
This means that MOON is "focusing on multiple themes, as opposed to a narrow theme like cloud computing or genomics or video games," said Todd Rosenbluth, director of ETF research for CFRA Research.
MOON's largest sector allocation, biotech, makes up 17% of the fund, compared with ARKK's biggest stake, a 22% allocation to internet companies. The top MOON holdings, laser-scanning company MicroVision Inc. and Vuzix Corp., an optical goods manufacturer, have advanced 231% and 145% respectively this year.
Other ARKK peers have also topped its year-to-date performance. Passively managed Global X Thematic Growth ETF (GXTG), has gained almost 16%. Actively managed competitors Fidelity New Millennium ETF (FMIL) and the BlackRock Future Innovators ETF (BFTR), with holdings like Penn National Gaming Inc. and Axon Enterprise Inc., have added 10% or more.
To date, none have proved much of a threat to ARKK, which has returned more than 200% in the past 12 months and helped spur a loyal following around Wood. Those already invested are unlikely to leave for greener pastures, according to Sal Bruno, chief investment officer at IndexIQ.
"There's definitely a first-mover advantage to ETFs," he said. "People get into them and they tend to stay in them as long as they are doing well."