Are Japan Bonds Coming Back Into Vogue? One Insurer Says Yes
(Bloomberg) -- The advance in yields on Japanese government bonds is making them an increasingly attractive proposition amid rising global uncertainties, according to Fukoku Mutual Life Insurance Co.
"JGBs can be considered as a place to shift money redeemed from maturing bonds at current levels," Takehiko Watabe, executive officer at the insurer, said in an interview on Monday. "Choosing by elimination, reallocating money JGBs can be an option rather than taking currency risks."
While Fukoku didn't announce any fresh allocations for local bonds under its October-March investment plan, Watabe's comments are a clear signal that JGBs are back on the radar for life insurers -- which are among the nation's largest buyers of foreign debt. Depressed yields at home have seen Japanese holdings of overseas bonds propel to $2.4 trillion.
Talk of a potential shift in the Asian nation's money flow has picked up as the Bank of Japan's tapering of bond purchases and a Treasury-led global rout drove the 30-year yield to as high as 0.95 percent this month. That's within striking distance of the 1 percent mark touted as a key determinant of how life insurers invest.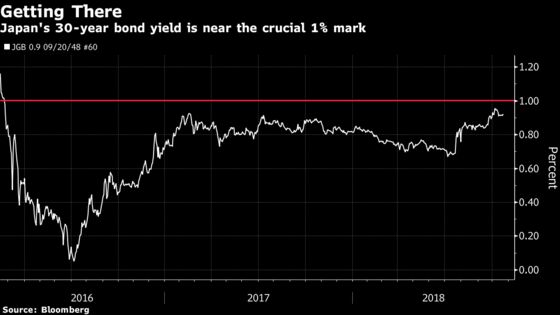 Watabe said Fukoku can consider "allocating some money to yen bonds" in its plan for the next fiscal year if the 20-year yield exceeds 1 percent. The 30-year is "worth considering as an option" above 0.9 percent, he said. The yield rose 1.5 basis points to 0.92 percent on Tuesday.
"If the 30-year JGB is around 0.9 percent, there won't be much of a difference between 10-year European debt after hedging, as we only can buy maturities up to 10 years for overseas debt," he said. "Whether we choose European bonds or JGBs will depend on the relative cheapness at a given time."
READ: Bond Homecoming for Japan Lifers Is Underway, Sumitomo Says
Fukoku is one of the smaller life insurers in Japan, with its asset base -- equivalent of $60 billion as of June -- being about a 10th of the size of Nippon Life Insurance Co.
Investors will look for more signals when companies including Nippon and Japan Post Insurance Co. lay out their second-half investment plans later this week.
Fukoku is "nearly done" with its planned foreign bond investment for the current fiscal year, Watabe said. "We've front-loaded buying and earned carry income without currency hedging when the dollar was below 110 yen."
The insurer increased holdings of overseas debt by about a net 100 billion yen in the first half, with U.S. securities comprising about half of it. It allocated the rest to high-yielding notes in Australia and Canada, and a small amount to Europe, Watabe said.
Click here to read more about Fukoku's investment plan.
"We are taking a wait-and-see stance for the second half," he said, citing uncertainties related to the U.S. mid-term elections, the U.S.-China trade war's impact on economies, and the consequences of Brexit. "If global yields rise, there is hope that JGB yields will also edge higher. We are holding expectations for the yield curve to steepen so that JGBs will become an investment choice."