Chinese Steel Demand Will Contract This Year, ArcelorMittal Says
(Bloomberg) -- ArcelorMittal SA warned that Chinese steel demand will contract this year due to headwinds facing the real estate sector, in the latest sign of the widening fallout from the China Evergrande Group's crisis.
China dominates global steel markets as the largest producer and consumer, accounting for more than half of total demand. The real estate sector has been roiled by a debt crisis that's weighed on economic activity, reducing demand for commodities like steel, at the same time as the country battles an energy shortage.
ArcelorMittal said it still expects steel consumption outside of China to rise 12% to 13% this year, as economies reboot after lockdowns. However, Chinese demand is now expected to decline slightly, revised down from the 3% to 5% annual growth the company predicted in July. 
China's property and construction industries contracted in the third quarter for the first time since the start of the pandemic, driven by a slump in real estate. The property sector accounts for 40% of the nation's steel consumption, making it a key driver of global demand.
State media has signaled the government's crackdown may ease, but Beijing has shown few signs of returning to the kind stimulus that rebooted property activity and commodities demand in the aftermath of the last major slump in 2015-2016. Earlier this year, China moved to cut steel production and reduce exports as part of its efforts to tackle pollution.
China's export price for hot rolled coil surged to a record high above $1,000 a ton in April as demand boomed both at home and in the rest of the world. However, the rough benchmark for global steel markets has since fallen by nearly 20%, with iron ore prices sliding even further.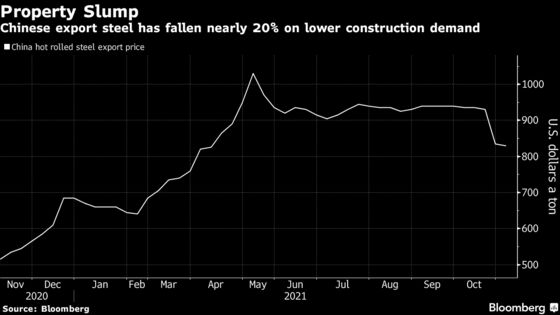 ArcelorMittal, which is the biggest steelmaker outside of China, reported third-quarter earnings on Thursday that missed analyst estimates after shipments declined. The company said it was particularly affected by order cancellations from the automotive sector, which is being hurt by a shortage of semiconductors. 
Still, the outlook remains positive, according to Chief Executive Officer Aditya Mittal, with the company expecting the factors that hurt third-quarter sales to reverse in the following three months.
"Underlying demand is expected to continue to improve; and, although marginally off the recent record highs, steel prices remain at elevated levels, something which will be reflected in the annual contracts for 2022," the CEO said.
The company posted its highest quarterly profit since 2008 thanks to the lagging impact of high spot steel prices -- its average selling price was 76% higher than a year earlier. ArcelorMittal gained as much as 2.9% in Amsterdam trading.
What Bloomberg Intelligence Says

"ArcelorMittal is confident it can make up some of the lost 3Q steel shipments -- as a result of auto-sector cancellations -- over the rest of the year, which we deem feasible, still enabling the company to beat consensus Ebitda expectations. While a fall in steel shipments wasn't unexpected, the very small miss vs. consensus Ebitda highlights a better-than-expected steel price realization and cost performance."
-- Grant Sporre, BI metals and metals analyst

Click here to read the full research note