AQR Quants Gaze Into Crystal Ball, See 'Soberingly Low' Returns
(Bloomberg) -- If the wizards at AQR Capital Management LLC are right, on the current trajectory the next few years will be a struggle for investors seeking the kind of returns they enjoyed in the "rosier past."
The $196 billion quantitative hedge fund this week updated its assumptions for major asset classes, and at first glance the outlook has brightened somewhat: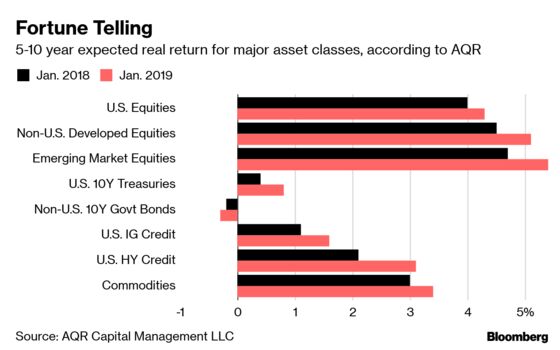 The trouble is, the improvements over last year are mainly due to cheaper prices after 2018's annus horribilis. AQR expects a traditional 60/40 portfolio of U.S. assets to earn just 2.9 percent after inflation over the medium term, compared with a long-term average of 5 percent.
"These estimates are mostly higher than they were a year ago, but compared to historical norms, they remain soberingly low,'' the firm wrote in a research note.
Some of the most improved outlooks are for U.S. investment grade and high yield bonds, thanks to wider credit spreads and higher Treasury yields. Cheaper U.S. stock prices will be partly offset by lower growth estimates, they reckon.
As ever, these calls come with a pretty big caveat. The Greenwich, Connecticut-based hedge fund -- which had a miserable 2018 -- warns that its predictions are "highly uncertain and not intended for market timing."