Apple's Sales Drop in China Means $5 Billion in Lost Revenue
(Bloomberg) -- Apple Inc.'s holiday sales decline reflected the iPhone maker's lost ground in China amid an economic slowdown in the world's second-largest economy.
Chief Executive Officer Tim Cook has seen China as a key part of Apple's sales and manufacturing strategy, with the company generating almost $52 billion in revenue from China and Hong Kong last fiscal year. But with China announcing its slowest economic growth since 2009, Apple said its sales fell 27 percent in the holiday quarter -- representing almost $5 billion of lost revenue.
"Weak macro conditions in some emerging markets was significantly more severe than we originally foresaw, especially in Greater China," Cook said on a conference call with analysts after the earnings release.
Apple isn't the only hardware maker with China woes. Chipmaker Nvidia Corp. forecast a weakened sales outlook because of falling demand for its gaming processors in China and Intel Corp. cited the Chinese economy as a reason for its lackluster forecast.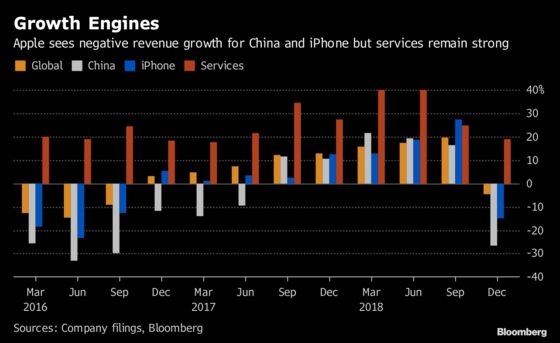 In addition to the economic pinch, Chinese consumers are increasingly turning away from Apple's high-priced phones to less expensive domestic models from Huawei Technologies Co. and Xiaomi Corp.
"Global iPhone shipments fell sharply, due to high retail pricing, unfavorable foreign exchange rates, intense competition from rivals like Huawei, battery replacement programs driving longer ownership cycles, diminished carrier subsidies in some developed markets, and flagging demand in some emerging markets," Neil Mawston, an analyst at Strategy Analytics, wrote in a note.
Apple has tried to replace phone sales with services revenue to compensate for the loss. To that end, Cook said services revenue in Greater China increased by more than 50 percent. Despite the gain, the Chinese government's censorship of video games "affected" Apple's business in the country, Chief Financial Officer Luca Maestri said on the conference call. He called the challenge "temporary in nature," but analyst Neil Campling of GTS Group noted that there were no game approvals in China between March and mid December.
There were a couple bright spots for Apple's business in China: two-thirds of those customers who purchased a Mac computer or iPad during the quarter were first-time buyers for the products, the company's executives said.
Still, the iPhone remains the centerpiece of Apple's product lineup, so some analysts remain disappointed by the company's performance in a crucial market for growth.
"Apple iPhone has an Asia problem," Mawston wrote.