Apple Options Suggest Outsized Earnings Move After Dodging Rout
(Bloomberg) -- Options show that Apple Inc., the largest U.S. public company by market value, is not immune from volatility surrounding its fourth quarter earnings report scheduled for Thursday afternoon. The current at-the-money straddle is expecting a move of about 5.2 percent in the shares versus an average of 3.8 percent over the last eight quarterly reports.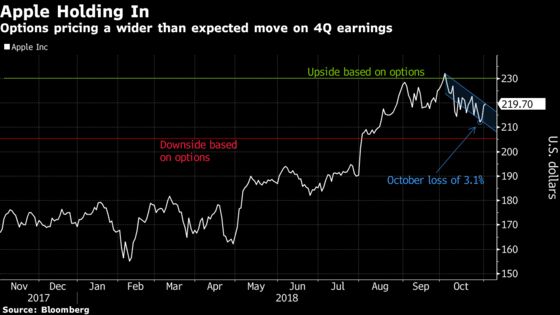 Apple was the best-performing stock among the megacap FAANG names through the October swoon, only dropping 3.1 percent while the simple average return of the other four stocks was a loss of 14 percent.
Only eight percent of total open interest is scheduled to expire on Friday with calls outweighing puts by about 15 percent. With the stock trading around $219, the most widely held contracts split between the $220 calls and the $200 puts. Implied volatility has jumped to about 105, more than 4 times its 90-day average of 25, suggesting that shares of the iPhone maker will have a wider move than seen over the past two years.