Apple Lifts Tech Stocks With Facebook and Amazon Earnings on Deck
(Bloomberg) -- Technology stocks rallied as investors took solace in a forecast from Apple Inc. that suggested the iPhone maker's sales woes aren't getting worse.
An exchange traded fund tracking the Nasdaq 100 Index rose almost a percent in extended trading after Apple reported earnings. Semiconductor suppliers such as Micron Technology Inc. and Broadcom Inc. were among the biggest gainers, while tech heavyweights Amazon.com Inc., Facebook Inc. and Microsoft Corp. also rose. Apple jumped 5.9 percent, trading back above where it did earlier this month before warning on weak China sales.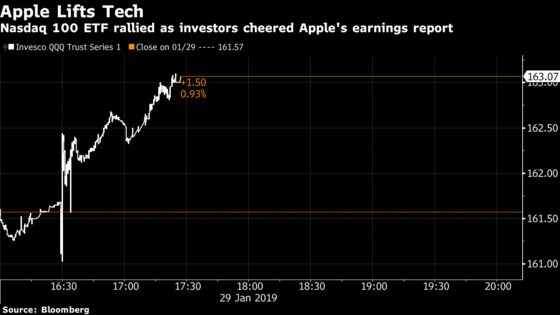 Disappointing iPhone sales have weighed on Apple and the ecosystem of dozens of suppliers for the past several months. The better-than-feared forecast bodes well for sentiment ahead of earnings from Facebook on Wednesday and Amazon on Thursday. Advanced Micro Devices Inc., the best performing stock in the S&P 500 Index last year, added to optimism Tuesday with its rosy sales outlook for 2019.