Apple-Heavy ETFs Are in Traders' Sights Ahead of iPhone Reveal
(Bloomberg) -- Investors keeping an eye on Apple Inc. and its suppliers ahead of the long-awaited iPhone reveal event Wednesday may also want to watch exchange-traded funds with sizable exposure to the tech behemoth.
Apple is a Top-10 holding in 132 ETFs and 2,300 mutual funds, according to a report by CFRA Research analysts including Todd Rosenbluth. The ETF with the largest exposure is the $4.4 billion iShares U.S. Technology ETF, or IYW, which has nearly 19 percent of its portfolio in the shares.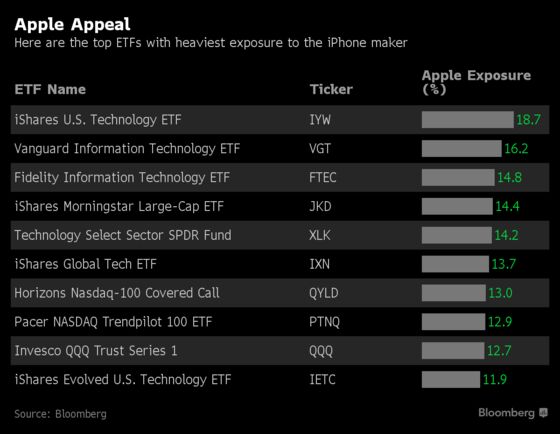 The company also is a major piece of several broadly diversified market-cap weighted funds, like the SPDR S&P 500 ETF Trust, or SPY, the largest ETF in the world, which has Apple as its top holding at 4.5 percent. It's also the biggest piece of the Invesco QQQ Trust, or QQQ, where it makes up over 12 percent of the fund's exposure.
Here are some other funds with strong ties to the iPhone maker.
Some funds tracking Asian equities are considered back-door bets on Apple's suppliers. The largest holding in the iShares MSCI Taiwan Capped ETF, or EWT, is Taiwan Semiconductor Manufacturing Co., and Apple is its top customer, according to a Bloomberg supply chain analysis. The fund's underlying index also has a 6.8 percent exposure to Hon Hai Precision Industry Co., which assembles the iPhone and other Apple devices. Samsung Electronics Co., another important Apple supplier, has a 22 percent weighting in the iShares MSCI South Korea ETF, known by its ticker EWY.
ETFs filled with semiconductors have taken a hit recently amid growing concerns about slowing smartphone sales. The two largest chipmaker funds are the iShares PHLX Semiconductor ETF, or SOXX, and the VanEck Vectors Semiconductor ETF, or SMH. Both are both down almost 3 percent Wednesday after Goldman Sachs analysts warned pricing woes may linger.