Apple Bulls Balk at Surprise End to Unit Sales Data; Shares Drop
(Bloomberg) -- Apple Inc. threw a curve ball to analysts, ending the release of unit-sales data in a decision that came "out of left field."
At one point in after-hours trading on Thursday, Apple's stock was down 7.7 percent, a decline that would mark the worst performance off the back of an earnings release in more than four years if something similar transpires on Friday.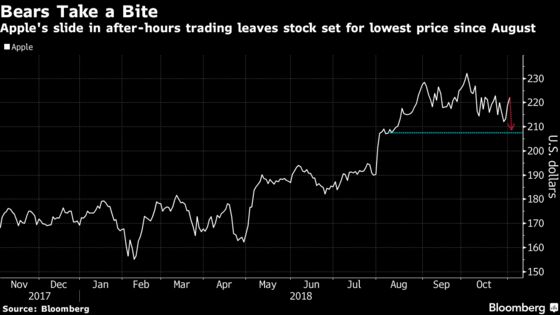 At the center of the reaction on Wall Street was a two-pronged debate: Why is the world's biggest company going to hold back some sales data, and are there lingering concerns about growth for Apple in China and other emerging markets?
Here's what analysts are saying about the results:
Wedbush Securities, Dan Ives
"It's definitely something that came out of left field. As they're going through this massive product cycle, it's a surprise for investors because transparency is sort of key here. Not breaking out unit sales is going to be a pretty controversial issue."
Forrester Research, Julie Ask
"Because devices have been Apple's history for so long, there's a set of expectations around those sort of products. But growth in the future is going to be slower in some ways.
"When you look at the upgrade cycles, those are slowing. You have to be a user of games, or what I would call the more demanding applications on the phone, to really need that upgrade. I don't need an iPhone X to do e-mail, but you do if you want to play the latest video games.
"When they do get a customer, especially for a subscription service, that's steady and that goes long term. But services are a lot more dependent on ecosystem partners. So whether it's Apple Pay, or it's music, or it's media, Apple can't just flip a switch and make that all happen. It's grinding that out day by day to sign up for partners, negotiate deals, get more services. It's something that grows much more slowly and more organically, it's not about a big bang 'Wow, I have to have that new product once a year.'"
"We're a little disappointed on the guidance. It looks to be, perhaps, indicating emerging market or China slowdowns and frankly, considering the product mix they have, it's a flat forecast with zero growth in the iPhone.
"We are seeing a little bit less enthusiasm from management. Just two days ago we had new products -- meat and potato products -- these products that are middle of the market. Not to see that reflected in guidance is a little disappointing.
"There's a question around whether the XR will be a home run or not."
Bloomberg Intelligence, John Butler
"Overall the quarter was decent and I wouldn't say the guidance was disastrous. It tends to be a management that's a little bit conservative, so my first thought when I saw the numbers was that they're being a bit conservative.
"The only thing that jumped out at me that was a little bit light was the services number. Concern in services is sort of like the iPhone itself. There are elements in there that are -- I don't want to say aging -- but they have the potential to slow a bit. App-store sales are slowing a little bit, iCloud is getting to be a mature product. Apple Care, same thing.
"They have a lot of work to do, to plant some seeds for new services."
RBC Capital, Amit Daryanani
"The bull thesis is more diluted," though he's sticking with an outperform rating.
"Gross-margins have potential to inflect higher through FY19 as memory tailwinds and product ramp inefficiencies start to ease."
Loup Ventures, Gene Munster
"The new reporting methodology is Apple's attempt to get investors to think of their entire business as a service (including hardware). This move should not be a surprise, given Apple's efforts over the past four years to encourage investors to look more at its services segment and, separately, to measure the iPhone on an annual basis rather than quarterly. It will likely take a year for investors to embrace the new reporting methodology.
"Ultimately, this is a good thing for Apple investors. The new reporting method will force the Street to think about Apple's business as a stable and growing service, which should yield a higher earnings multiple in the long run."