How to Be a Team Owner When There Are No Sports
(Bloomberg) -- No games are underway during the coronavirus pandemic, but pro-sports organizations have as big a role to play as ever, says Apollo Global Management co-founder Josh Harris, owner of the Philadelphia 76ers and New Jersey Devils.
Teams have an obligation to support local residents and institutions, according to the billionaire, who has been both praised and criticized for his handling of the crisis.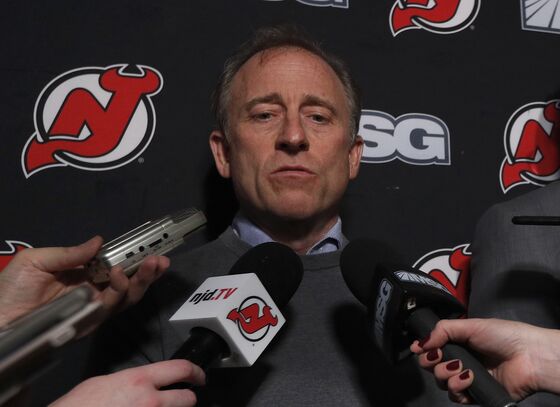 "In difficult times like this, it's more important than ever for us to be leaders in the community," Harris, 55, said in an email. "It's incumbent upon us to lead by example for our teams, players, staff and neighbors, and to use our platform and public profile for good."
After an early misstep in the court of public opinion, Harris and co-owner David Blitzer have mobilized the full force of their organization, Harris Blitzer Sports & Entertainment, to support local schools, hospitals and families. With contributions from staff and players such as Ben Simmons and Joel Embiid, they have donated more than $7 million to virus relief.
The efforts go beyond financial donations, extending to volunteering and logistical help, as well as having athletes record public-service announcements about social distancing. The Devils donated medical supplies, such as gloves, sanitizer and soap, that they'd stocked for upcoming games. The Prudential Center, where the NHL's Devils play, also turned perishable food from unsold concessions into care packages for part-time workers.
As the pandemic upends the global economy, sports owners across the country have been closely watched for how they've supported their own salaried employees, hourly arena workers and communities. Pro teams are typically worth billions of dollars, and rely heavily on the spending of locals, in additional to occasional stadium subsidies and other tax breaks.
Harris -- who has a net worth of $5.2 billion, according to the Bloomberg Billionaires Index -- hasn't been spared from the outcry. Two weeks after the NBA and NHL shut down, he ordered salaried employees' pay to be cut 20% until June. Harris reversed the decision following blowback from within the organization and outside it.
"As a leader, especially in circumstances like these, you don't always get it right on the first try," he said. Part-time workers for the Devils and Prudential Center were paid through what would have been the end of the NHL season, and salaried employees throughout the organization are being paid fully.
Harris wrote an open letter last week to Apollo employees detailing the private equity firm's relief efforts. He said Apollo and its nearly 100 portfolio companies had committed more than $30 million to fight Covid-19.
At Harris Blitzer, the group chose to focus on three main areas: food, education and medical resources. The larger donations included:
A six-figure donation to a Newark, New Jersey, program that provides food to families in need.
A seven-figure donation to the Philadelphia school district to purchase 10,000 computers for students learning at home.
A six-figure donation to Philabundance to help feed people in the city.
A six-figure donation to the Children's Hospital of Philadelphia to support telemedicine visits for kids.
Athletes are involved in some of those initiatives, but they've also struck out on their own. Embiid and Al Horford have each donated $500,000 to fight the virus. Shake Milton donated 500 meals to health-care workers.
"We have a deep partnership with our cities and are in it for the long haul," Harris said. "We are confident the community will recognize that our teams and organizations supported them through tough times, like we do in the good times, too."