Apollo Co-Founder Harris Steps Back After Missing Out on CEO
(Bloomberg) -- For Josh Harris, the end of his three decades as a dealmaker at Apollo Global Management Inc. came swiftly.

Just four months after he was passed over for the top job at the private equity giant, Harris threw in the towel and relinquished his day-to-day role.
Harris's departure will be finalized when Apollo's acquisition of Athene Holding Ltd. is completed early next year, the firm said in a statement Thursday. He'll continue as an Apollo director and on the board's executive committee.
The firm tapped Marc Rowan earlier this year to succeed Leon Black as chief executive officer. Harris has since given up day-to-day handling of operations and been less involved in dealmaking, Bloomberg News reported last month.
"It is time for me to start the next chapter of my career, where I will focus full-time on the platforms I've created outside of the firm," Harris, 56, said in the statement. His outside interests include his stakes in the NBA's Philadelphia 76ers and the New Jersey Devils hockey team and the family office that manages his estimated $6.6 billion fortune.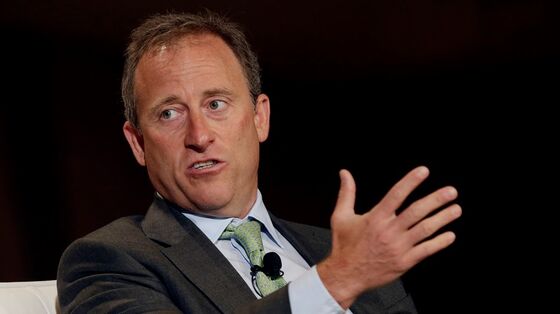 The past year has been a tumultuous one for Apollo. Black's financial ties with sex offender Jeffrey Epstein threatened fundraising as some investors put their commitments on hold. Harris's shift could further complicate efforts to move on from the drama because he's a "key man" on Apollo's flagship buyout fund, which means investments would be put on pause without him.
"You need some stability from management," Jerry O'Hara, an analyst as Jefferies Financial Group Inc., said prior to the announcement. He noted that the initial shock of Black's exit was blunted because the two other active co-founders -- Harris and Rowan -- were remaining.
Giving up daily responsibilities was a stark change for Harris, who for three decades has been known for working marathon hours and making his presence known throughout the New York-based private equity firm, running operations and pressing employees on the details of their deals.
Two months ago, Harris signed a new three-year employment agreement with Apollo which detailed his role at the time . Under the contract, Apollo didn't have the right to terminate him except for cause or disability, while Harris could end it "at any time."
The pact, quietly disclosed in a regulatory filing earlier this month, diminished his role, largely turning him into an Apollo ambassador and strategist. Among the tasks Harris was given included bolstering relationships with clients, becoming an external liaison to the media and focusing on diversity at Apollo.
The contract did call for Harris to participate in Apollo's largest investment transactions and serve as the chairman of a new biweekly private equity transaction committee that would review transactions before they were brought to Apollo's full investment committee, according to the agreement.
For years, Harris had positioned himself as Black's most likely successor, frequently representing Apollo at conferences and in the media. He was seen as having a tighter relationship with Black, 69, and deemed the top contender for the role.
But Black surprised insiders in January by handing the top job to Rowan, after Harris privately urged Black to give up his posts to avoid further damaging Apollo's reputation, Bloomberg has reported.
An outside review found that Black paid Epstein $158 million from 2012 to 2017 for tax and estate planning services. Those payments came after Epstein's 2008 conviction for soliciting prostitution from a teenage girl. Black has never been accused of involvement in his criminal activities and Apollo has said it never did business with Epstein.
For the last several months Harris, who publicly backed the decision to make Rowan CEO, his approval was sought only on the biggest deals. Now as he exits, he's also considering making Florida his primary residence, which could reduce his tax burden if he opts to begin liquidating his stake in the firm.
Black, Rowan and Harris had an enduring partnership, working alongside one another for more than three decades. Their careers first intersected at Michael Milken's junk bond shop, Drexel Burnham Lambert. In 1990, the three helped found Apollo, with Black at the helm.
Through the years, Harris built a reputation as a successful dealmaker and investor. He played a hand in some of Apollo's most successful bets, such as LyondellBasell Industries NV, a Dutch chemicals maker. Just before the company went bankrupt in 2009, Apollo bought up discounted debt, leading to a windfall for the firm.
While Rowan was seen as the quiet strategist in the background, Harris had become the face of the firm. A competitive wrestler in college, he devoted his free time to investing in and managing professional sports teams. In addition to the Philadelphia 76ers and New Jersey Devils, Harris has ownership interests in Crystal Palace and the English Premier League soccer club.
Apollo is seeking to invest a $24.7 billion buyout fund it raised in 2017. If Harris leaves before the fund is finished investing, that would trigger a pause, unless two-thirds of investors agree to continue.
That fund is about 62% committed, Rowan said in a memo to employees Thursday seen by Bloomberg.
Rowan said the firm will update investors "on our progress and performance as we prepare for a likely launch of Fund X in 2022, as well as proactively address 'key person' matters."
Apollo's private equity funds were up 22% at the end of the first quarter, Rowan said in the memo, adding that "between now and closing of the (Athene) merger, investment approvals and oversight will continue according to the existing process."
Apollo oversaw $461 billion of assets as of March 31.
"Now is the right moment for this transition," Harris said in a separate memo seen by Bloomberg. "As I move on, I will continue to be one of the company's largest shareholders, supporters and advocates."