ANWR Could Boost U.S. Oil Supplies But It's Going to Be a While
(Bloomberg) -- Don't hold your breath waiting for oil from ANWR.
Oil probably won't flow until after 2030 from Alaska's Arctic National Wildlife Refuge, which was opened last year after a decades-long fight. Once production begins, a 1.5-million acre area within the refuge known as the coastal plain could yield anywhere between 5.7 billion and 16 billion barrels of oil, the Energy Information Administration said, citing a U.S. Geological Survey assessment conducted in 1998. Currently, Alaska's North Slope churns out about 517,000 barrels of oil a day, according to the state's Department of Revenue Tax Division.
Regardless of how much crude there is, production won't start for a while because of the time needed to acquire leases, explore, and develop the required infrastructure, according to the EIA. "Fields are assumed to take three to four years to reach peak oil production, to maintain peak production for three to four years, and then to decline until they are no longer profitable and are abandoned," the report said.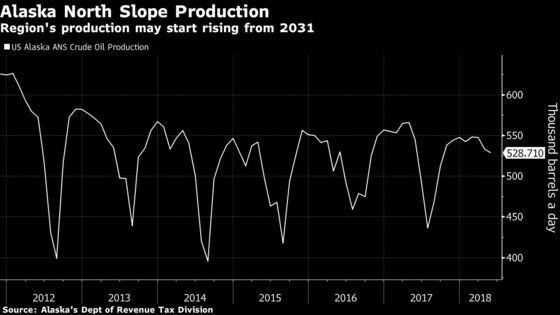 Then there is the question of demand. The bulk of Alaskan oil is processed by refiners in the U.S. West Coast that may not want to increase their intake of the crude because it would reduce the profitability of refinery cokers, which are designed for heavier oils, according to the EIA. Also because of the Jones Act, the crude would have to be transported domestically on U.S.-flagged vessels, which could also limit demand. These factors mean that some supplies would may find its way to Asian markets.