Banks, Builders Trounced on Interest Rate Worries
(Bloomberg) -- Investors hoping for a respite in the pummeling of two of the stock market's weakest sectors instead were treated to more pain.
Financial stocks in the S&P 500 dropped 2.1 percent to a one-year low while homebuilders had their 12th decline in 14 days. Bearing the brunt in lenders were New York Community Bancorp, Comerica Inc. and Huntington Bancshares Inc., losing more than 3.8 percent each, while MDC Holdings, KB Home and Lennar each fell more than 3.5 percent in the construction space.
"It's almost like a series of mini-corrections are going on in the marketplace right now," Shawn Matthews, former chief executive officer of Cantor Fitzgerald LP who launched a hedge fund called Hondius Capital this year, said on Bloomberg Television. "In a typical cycle, these interest-rate specific areas are going to take the hits first."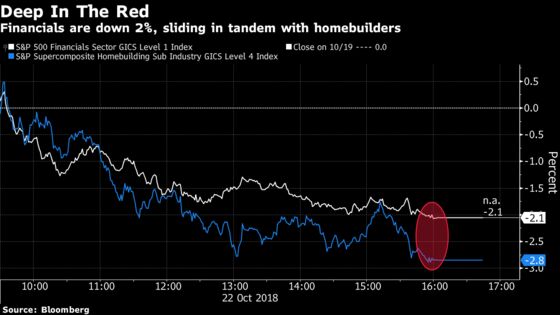 The two groups, both exposed to weakening sentiment in real estate, have tumbled as investors rotated into defensive industries like foodmakers and utilities. The S&P Supercomposite Homebuilding Index is down 36 percent in 2018, poised for the worst year since the financial crisis, while the S&P 500 Financials Sector gauge has dropped 14 percent from its high in January.
"Home stocks are always going to be first and foremost going to take a hit," Matthews said. "Then you're going to go through and you're going to look at the financials space because the curve has flattened and then you're going to start to look at other areas."
Home stocks haven't been able to catch a break this year, and losses have worsened in October. The 30-year mortgage rose above 5 percent this month for the first time since 2011 at the same time data from the industry has come in weak. Atlanta-based PulteGroup Inc, which fell more than 3 percent in Monday's trading session, will kick off earnings for major homebuilder stocks tomorrow and slowing industry demand will be in focus, according to Bloomberg Intelligence.
U.S. housing starts fell in September, declining 5.3 percent. The drop followed a downward revision of August's growth rate to a 7.1 percent gain, from 9.2 percent. The disappointing data came as BTIG analyst Carl Reichardt cut builder EPS estimates by an average of 1 percent for 2018 and 6 percent for next year amid concern over a slowdown in housing demand.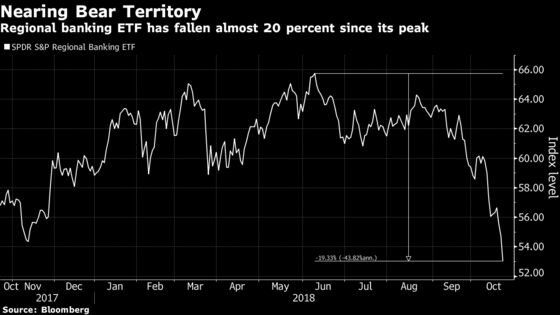 Rising rates have left the housing market "at the end of its affordability rope and prone to further downside," Deutsch Bank analyst Nishu Sood wrote in a note. This is the first time since World War II that high prices are halting housing momentum at what should be the middle of the cycle.
Regional banks have suffered. The largest ETF that tracks the group of smaller lenders has plunged 19 percent since reaching a record in June. It's down 11 percent in October to the lowest in 13 months. Zion Bancorp fell 3.5 percent Monday even after reporting earnings that topped estimates as investors grew concerned about higher rates and a slowdown in the housing market. Fifth Third Bancorp, Huntington and Regions Financial report results Tuesday.
Energy and raw-materials stocks also fell Monday, sending the S&P 500 down for the 11th time in 13 days.
"It's a very fickle market at this stage, especially for stocks that don't have very strong perceptions of their growth outlook in the market," John Vail, chief global strategist at Nikko Asset Management, said by phone. "People are feeling testy. Certainly people have had a bit of a shock with the market downturn and people are coming to the realization that the Fed isn't kidding about wanting to slow down risk taking to some degree and wanting to keep the economy from growing too fast."