Another European Stock Rally Falters as Dead-Cat Bounces Abound
(Bloomberg) -- Europe's equity rebound on Monday morning proved to be a dead cat bounce as gains turned into losses after the U.S. market opened in the red.
The Stoxx Europe 600's strong open on Monday began to falter as U.S. stocks headed for their fourth straight day of declines. Even Italy's relief rally couldn't last. The country's populist leaders told the European Union it is willing to temper its budget next year and Moody's Investors Service at least didn't downgrade its debt to junk, but the FTSE MIB's initial 2 percent jump still turned into a 0.7 percent loss. The Stoxx 600 is down 0.4 percent as of 4:20 p.m. CET.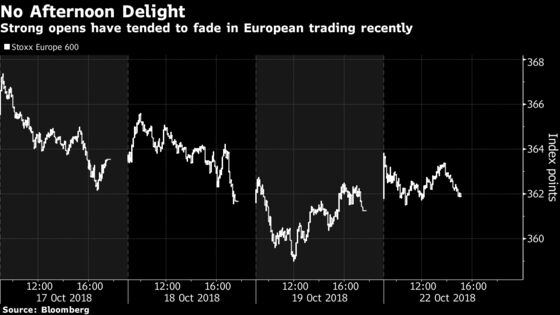 The long-suffering basic resources sector is also surrendering early gains. After rising as much as 1.5 percent in early trade, boosted by China's promised measures to support the economy, the sector index is now down 0.2 percent. Similar fate for the auto sector, whose valuation plunged to a six-year low last week. Bucking the trend, Fiat Chrysler Automobiles NV is up 3.5 percent after agreeing to sell its high-tech car-parts unit for about $7 billion.
This isn't the first time in recent sessions that a strong open in Europe has faded as the day progresses, a sign nerves are still a bit fragile, especially if you consider overnight rallies of 2.3 percent in Hong Kong and 4.1 percent in Shanghai.
"The showdown between Rome and Brussels continues, and just because the FTSE MIB has bounced back this morning, doesn't mean that long-term confidence has been recovered," said David Madden, market analyst at CMC Markets. The FTSE MIB has slipped into oversold territory again, with its RSI hitting 29.4.