Animal Spirits Going Global as MSCI World Gauge Spikes to Record
(Bloomberg) -- It may have been made in America, but the bullish sentiment that has been propelling U.S. stocks all year is starting to make its presence known elsewhere.
Suddenly buoyant markets in places like Sao Paulo and Tokyo are breathing life into global benchmarks that had been laggards for most of the past two years, pushing MSCI's all-country world gauge to a fresh high Thursday for the first time since Jan. 26, 2018. While the heavy lifting was done stateside, where the S&P 500 has returned 28% this year, other markets are getting in on the act.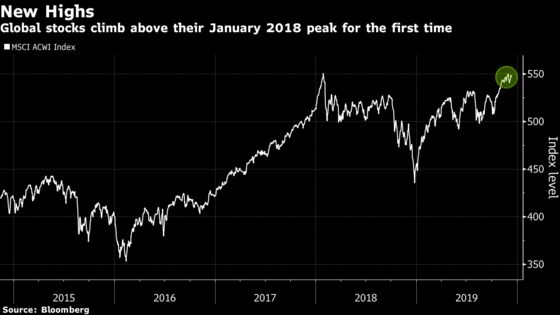 At minimum, today's milestone is a rebuke to anyone who read the economic tea leaves in August and computed odds of a global recession somewhere around 100%. While stocks and economies frequently diverge and no signal is certain, the reemergence of risk appetite in equities is a sign not everyone is convinced world economies are out of gas.
"There's a complete sea change of message coming from the financial markets," said Jim Paulsen, chief investment strategist at the Leuthold Group. "This looks more sustainable than just a blip."
The breakout ended the global gauge's 684-day run without a record, the fourth-longest drought in history. At least eight stock markets joined the U.S. in making new highs in recent weeks, including Australia, Brazil, Denmark, India and Switzerland.
Broadening participation contrasts with July, when the S&P 500 marched into unprecedented territory while the rest of the world was mired in corrections. Since mid-August, the Topix index of Japanese stocks has jumped 15% while the Stoxx Europe 600 Index climbed 12%.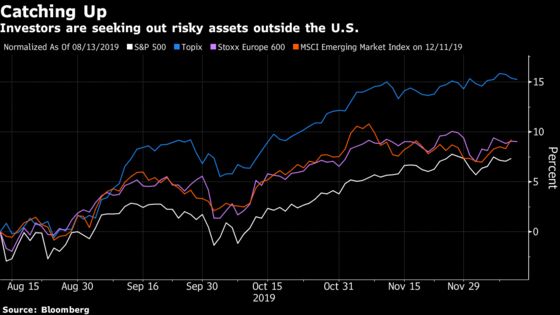 The resurgence of international stocks is part of a rally that has prompted investors to go risk-on, shifting focus from safe havens such as U.S. equities, government bonds and dividend stocks to cyclical and value assets.
The newly-found leadership is a rebuttal to bears who have warned the U.S. would eventually be dragged down by economic and political turmoil elsewhere. Forecasts for American growth, while not historically high, aren't falling, and progress has been made on Brexit and easing U.S.-trade tensions.
With more than half of global central banks monitored by Bloomberg having lowered interest rates this year, the world economy is showing signs of stabilization. Across the globe, the rate at which economic data is missing forecasts has stopped worsening, data compiled by Citigroup showed.
"Foreign investors are beginning to see that there is a light at the end of the tunnel," John Stoltzfus, chief investment strategist at Oppenheimer Asset Management, said in a phone interview. "And it's not a locomotive or a tractor trailer truck coming out, it's actually daylight at the end of the tunnel."