Anglo Bucks Mining Trend by Pouring Profit Into Mega Project
(Bloomberg) -- Anglo American Plc gave the green light to a giant new $5 billion copper mine in Peru, setting it apart from rivals who are instead focusing on throwing record amounts of cash back to shareholders.
The century-old miner, which almost collapsed amid a commodity crisis just 2 1/2 years ago, is aggressively pursuing growth at a time when other majors are focusing on paying out dividends. The company on Thursday said it has signed off on the Quellaveco project in Peru as it announced a jump in first-half profit.
"Not many people have the opportunities we have in the portfolio," Chief Executive Officer Mark Cutifani said. "It's a rare opportunity to develop a copper asset of scale."
Anglo's first-half underlying profit climbed 11 percent to $4.58 billion and the London-based company will pay a dividend of 49 cents a share, it said in a statement. Still, earnings per share of $1.23 fell short of analysts' estimate of $1.28, and the shares declined.
The world's biggest miners are becoming increasingly bullish on copper and looking to add exposure to the metal that's trading near a one-year low. There are expectations that expanding power grids around the world and an electric-vehicle boom will boost demand, while supplies are constrained and new deposits are hard to find.
While Anglo's focus on building a big new mine sets it apart from most of its rivals, there's still an element of caution after years of over-exuberance. The company has brought in Mitsubishi Corp. as a 40 percent partner in the Quellaveco project, as part of a policy of avoiding solo developments after a $14 billion Brazilian iron ore project almost led to Anglo's collapse.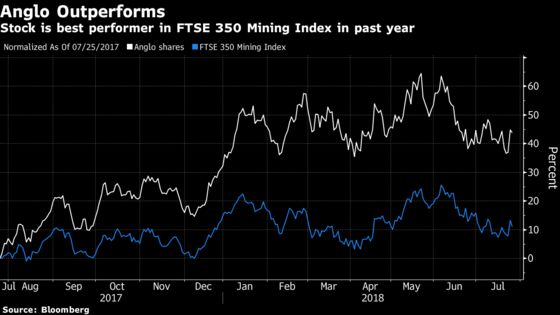 Anglo fell 2 percent to 1,666.40 pence by 9:11 a.m. in London, with RBC Capital Markets saying profit and the dividend were a little lower than the market expected.
"Despite any headwinds on financials, today's results reinforce the growing growth contained within Anglo, especially on a relative ratio versus its peers," RBC said.
The miner said it would be able to pay for its share of the Quellaveco project from cash flow and without increasing debt. Debt has fallen to $4 billion, and while the company said it's comfortable with current borrowings, it expects them to fall further this year.
Anglo has said it plans to start construction of Quellaveco later this year, with production starting in four years' time. The project, which will cost $5 billion to $5.3 billion, holds about 7.5 million metric tons of copper and will produce about 300,000 tons a year.
In 2015, Anglo was among the worst hit of the major miners when waning Chinese demand led commodity prices to collapse. Cutifani scrapped the dividend that year and embarked on an drastic debt-reduction plan, which involved selling or closing almost half of its assets. It has since slashed debt and costs and focused on its best assets. That puts it in a better position to ride out any commodity volatility from global trade tensions, Cutifani said.
"Anything that impacts free trade across the world is unhelpful," Cutifani said. "We can handle whatever the market throws at us, we're in good shape."
It hasn't been all good news for Anglo. The company earlier this year said its giant Minas Rio iron ore mine in Brazil will remain out of production for the rest of the year as it scans and fixes leaks on a 529-kilometer (329-mile) pipeline. It said today that the inspection is on track and remedial work should be completed in the fourth quarter.
The first of the big major miners to report earnings, it also said it's experiencing rising input cost inflation. In May, Rio Tinto Group's CEO said inflation is starting to hit producers, and those with the highest costs would get hit the hardest.