Anglo Platinum CEO Exits Amid Bumper Earnings, Dividends
Anglo American Platinum Ltd. said Chief Executive Officer Chris Griffith will step down, as it reported profit that more than doubled from a year earlier and boosted shareholder returns with a special dividend.
Griffith, who spent seven years at the helm of the Anglo American Plc unit, leaves the company in a dramatically different state from when he joined. In 2012, Amplats, as the producer is known, was struggling with sliding profits and swelling debt as metals prices floundered. Four days after his appointment was announced, the company suspended its dividend.
Since then, the miner sold and mothballed less profitable operations to focus on lower-cost mines, restarted dividend payments two years ago and ended 2019 with net cash of 17.3 billion rand ($1.2 billion). In addition to operational improvements, Amplats is also benefiting from a surge in palladium and rhodium prices.
Read More: Palladium Gap Means Surge Is Far From Over, Amplats CEO Says
The company, which reported annual results Monday, declared a second-half dividend of 41.60 rand a share, including a 25-rand special dividend. The full-year payout was more than four times higher than a year earlier.
Amplats will likely maintain its dividend payout ratio of 40% of so-called headline earnings, Finance Director Craig Miller said.
The company's shares rose 3.8% by 2:11 p.m. in Johannesburg, bringing their gain over the past 12 months to 90%.
Griffith will step down at the company's annual general meeting in April to pursue other career opportunities, the company said. His successor, who is expected to be an internal candidate from within the Anglo American group, will be announced in the near future, Amplats said.
"We have got a hugely resilient business now," Griffith told reporters on a call Monday. "We have a much more financial astute company and of course the cherry on the top has been able to return dividends to shareholders again."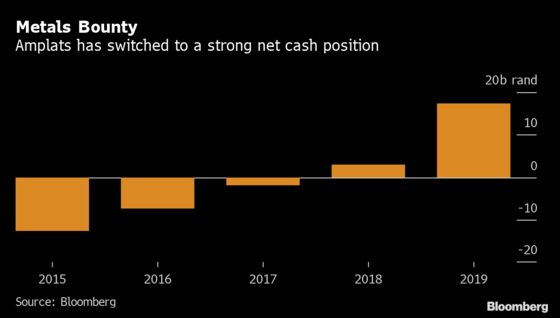 Platinum miners in South Africa, the world's top supplier, have received a boost from rallies in palladium and rhodium as stricter vehicle pollution controls boost usage. South African miners' earnings also get a lift from a weaker rand that lowers costs.
The palladium deficit will widen to 1.9 million ounces this year from about 1.1 million ounces in 2019, Griffith said. While higher prices would naturally trigger a supply side response, Amplats won't rush into building new mines, given the potential to substitute palladium with platinum in catalytic converters, he said.
"There is a solution before we go and build new mines: it's platinum," Griffith said. "That's the first thing we need do, that's the answer to the problems of metal shortages."
Anglo Platinum reported headline earnings of 18.6 billion rand for 2019, compared with 7.6 billion a year earlier. Revenue surged 33%.