Analysts Warn About Polls Signaling Biden Win: Wall Street Votes
(Bloomberg) -- Wall Street firms are sounding some notes of caution about assuming Joe Biden -- who's topped polls and prediction markets for months -- will beat Donald Trump in the U.S. presidential election.
Wells Fargo's head of equity strategy Christopher Harvey said the race looks "downright weird," while Cowen analyst Jaret Seiberg cautioned that even though Biden "looks good for the win," Trump should also be taken seriously.
For Harvey, most polls point to a so-called "blue wave" but some other indicators, like early vote data, say otherwise. He also views Senate control as "uncertain," but added that Republicans have arguably made gains recently.
Harvey flagged a shift in a RealClearPolitics forecast of the Senate, with the firm now showing 45 Democrats to 46 Republicans with nine tossup seats, from last week's 47 Democrats to 46 Republicans with seven tossups. He also cited a "curious poll": a recent Rasmussen presidential tracker, with Trump leading 48% to 47%.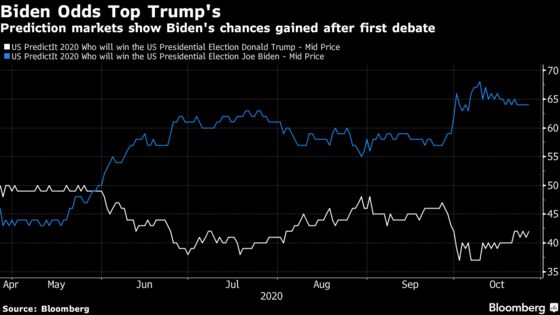 On Tuesday, Rasmussen said Biden had edged back ahead in its daily White House Watch survey, with Biden earning 49% support to Trump's 47%. On Monday, Trump was ahead for the first time since mid-September. An average of other, higher-rated polls give Biden an 8 percentage point lead over Trump, according to RealClearPolitics.
While it may be an outlier, Rasmussen was the only pollster listed by RCP that was exactly right on 2016's presidential popular vote, Harvey said. He added that Biden likely needs to win the popular vote by at least three points to secure an Electoral College win.
Signs that some of the Democratic party's most reliable voters, like young voters, are underperforming their 2016 share of the electorate would also be positive for Trump and GOP Senate candidates, Harvey said.
Separately, Trump has closed a gap in support among Black voters. He lost them by about 82 percentage points in 2016 but has narrowed the gap to about 71 points this year, according to a recent FiveThirtyEight analysis of polling data. Trump has improved particularly with Black men, cutting his disadvantage to 57 percentage points from 72 percentage points.
Harvey has advised clients that volatility will likely increase, and equities would be pressured, with a tighter presidential race, a "coin-toss" outlook for Senate control and fiscal stimulus "less likely than many thought."
"This repricing is occurring rapidly and in real time -- and could be a sharp one by election day," he said, recommending that investors add "cyclicality/value, small caps, and 'Covid beta,'" and use an election induced selloff or underperformance to add to those exposures.
Harvey expects a near-term rally on "massive stimulus expectation" if there's a blue wave. If Trump wins while Democrats take the Senate, he sees an initial selloff, followed by a stimulus-driven rally. If Trump wins while Republicans hold the Senate, he forecasts a "2016-style post-election rally as uncertainty fades and real hope for stimulus by year-end emerges."
MARKETS OVERVIEW: U.S. tech shared climbed after a $35 billion tech deal while the broader market fell.
JPMorgan Says Democratic Sweep Could Boost Crude 10%-15%
Biden 7.3 Points Ahead of Trump as Gap Narrows
Goldman Says Options Are Pricing In Risk of Contested U.S. Vote
Minority Bank Execs Say Regulation Their Next Existential Threat
"Wall Street Votes" is a column highlighting opportunities for investors deluged with political news. Click the button at the top to subscribe.