Moutai Will Win China's Booze Battle, Analysts Bet
(Bloomberg) -- Moutai and Wuliangye may not be tip-of-the-tongue brands in much of the world, but China's premium alcohol labels have a rivalry akin to Johnnie Walker and Chivas Regal whiskies.
While demand for the companies' signature baijiu drinks has soared over the past few years, growth for the fiery liquor now faces a challenge as the world's second-largest economy decelerates. As consumers become choosier, fund managers and analysts are betting on Kweichow Moutai Co. over Wuliangye Yibin Co.
Moutai has an edge as it sports the highest operating margin among the world's biggest companies and wields stronger pricing power over its rival. It will also hold up better than other distillers, with a brand that's highly coveted by a rising middle class after establishing itself as the drink of choice at official occasions.
"Moutai is not just a consumer product; people also buy the bottles because they see them as a store of value," said Bruce Yu, a fund manager at Franklin Templeton SinoAm Securities Investment Management Inc. "Moutai is the only baijiu stock that I am holding now."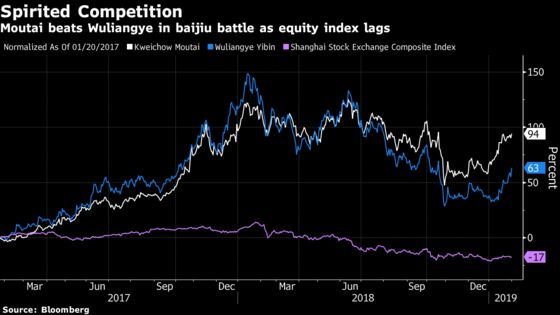 Chinese consumers so far are still willing to shell out for luxury goods including premium liquor, even as China's slowdown hurts big-purchase items such as autos. Moutai, whose stock reached an all-time high in June, ranked as the country's most-valuable brand in an annual survey last year by the Hurun Institute, topping Alibaba Group Holding Ltd.
Moutai shares climbed as much as 1.4 percent in early trading on Friday. Wuliangye rose as much as 1.8 percent, after jumping more than 5 percent on Thursday.
Part of the appeal for investors is the pricing cushion built into Moutai's revenue. The Chinese firm sells each bottle of its sorghum-based flagship Flying Fairy brand to distributors for about 1,000 yuan ($149), yet they routinely retail for more than 2,000 yuan. That's a far higher markup than for Wuliangye's core product, which has a retail price of about 1,100 yuan.
"In the event of an industry slowdown, Wuliangye's financial results may be hurt more than those of peers such as Moutai, given the relatively small difference between its factory-gate and retail prices," Bloomberg Intelligence analysts Shen Li and Kai Tung Pang said in a report Thursday, after the No. 2 baijiu producer raised its 2018 net income guidance.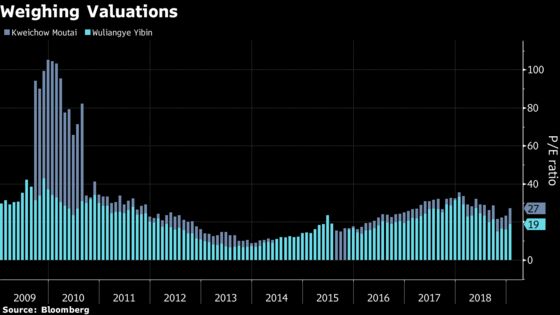 Kweichow Moutai's three-year average operating margin of 73 percent was No. 1 among the world's 500 largest companies, according to data compiled by Bloomberg, and almost double Wuliangye Yibin's 40 percent. Moutai's operating margin widened to more than 78 percent in the quarter through Sept. 30.
Also favoring Moutai is a distilling period of five years, a lengthy process that has led to a scarcity of supply, helping to prop up demand even when consumers cut back on other spending. The company tries to sustain growth amid the shortage by introducing more ultra-premium and customized products. Also boosting profit ratios are more direct-to-consumer sales through websites and smartphone apps.
"Moutai has two catalysts this year: first, it will sell more special-edition liquors such as Chinese zodiac or custom-made liquors with higher margins, and second is an increase in direct selling," said Morningstar analyst Allen Cheng, who expects double-digit growth in sales and profit this year.
Moutai predicts a 25 percent increase in earnings for 2018, and sales growth of 14 percent for this year, while Wuliangye said Thursday it expects 2018 earnings will jump as much as 40 percent.
Cheng said Moutai's valuations are relatively reasonable now, "around their 10-year average." Its current price-earnings ratio of 27 times earnings compares with 29 on a monthly basis the past decade, according to Bloomberg data. Wuliangye trades at 19 times, versus 21 over the past 10 years.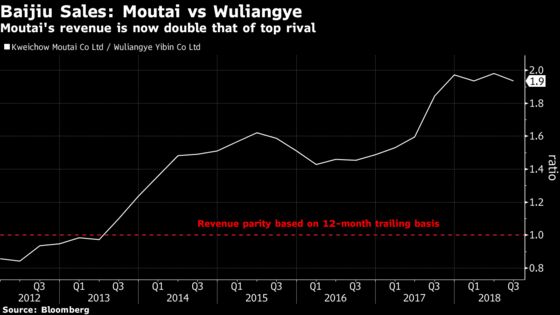 Although Cheng currently has a hold rating on Moutai, he said in a phone interview that shares could rise to 720 yuan in 2019, or a 22 percent gain for the year, based on cash-flow forecasts. Every other analyst among the 38 tracked by Bloomberg currently has the equivalent of a buy recommendation. Goldman Sachs last week raised its price target, citing changes to the company's sales approach.
Analyst ratings for Wuliangye Yibin include 29 buy recommendation, five holds and one sell, the latter by JPMorgan Chase & Co.
Wuliangye was the bigger of the two distillers by revenue as recently as 2012. But in the 12 months through Sept. 30, Moutai products generated twice the sales. In the process, Kweichow Moutai surpassed Diageo Plc, owner of Johnnie Walker, as the world's most-valuable spirits distiller. Wuliangye is currently No. 4 after Pernod Ricard SA.