Analyst Who Triggered K-Pop Stock Plunge Apologizes a Day Later
(Bloomberg) -- A day after analyst Kihoon Lee set off a plunge in the shares of K-pop talent agencies, he wrote another note apologizing for triggering short-selling among foreign investors.
Titling his new report "There's no change in the industry's growth or my own conviction," Lee -- who works at Hana Financial Investment Co. in Seoul -- said he still expects JYP Entertainment Corp., the talent agency behind girl group "Twice," to top market estimates in the fourth quarter, even though he lowered third-quarter earnings by 20 percent.
"The reason why I lowered estimates a day earlier was I tried to maintain a conservative view," Lee wrote. "Entertainment agencies will be hard to predict in the next two years but I'm pretty sure the actual earnings will be higher than expected."
Lee sees fourth-quarter operating profit at JYP Entertainment surging 500 percent to a record 22.2 billion won ($20 million) from a year earlier, boosted by overseas sales of CDs and concert tickets. Lee didn't provide those estimates in his initial report.
JYP Entertainment rose as much as 3.7 percent on Thursday after yesterday's record 20 percent slide that spurred declines in other agencies. YG Entertainment Inc., manager of girl group "BlackPink," gained 2.4 percent after a 13 percent plunge Wednesday. SM Entertainment Co. was little changed after its 15 percent drop. Short selling volume for JYP was at a record high on Wednesday, according to Bloomberg data.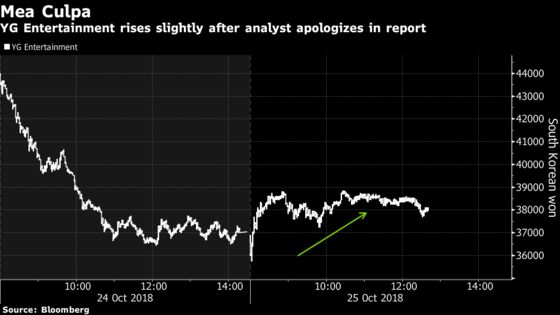 Lee's bearish note came as a surprise to market participants in Seoul. According to the Financial Supervisory Service, about 88 percent of domestic stock ratings by Korean analysts were a "buy" or equivalent in 2016, while only 0.17 percent were sells or equivalent.
Lee said over the phone on Thursday that he remains overweight on the industry and maintains his buy on JYP Entertainment. He also backtracked from a comment the previous day when he said new K-pop bands may not be as successful as recent groups.
"I've always maintained a conservative assumption that all new groups may fail because the industry is so difficult to predict," Lee said. "It's so hard to forecast the popularity of new groups. If I knew my report could trigger such a massive sell-off, I would not have written it."