An Acid Squeeze Is the Latest Obstacle Facing Giant Copper Mines
(Bloomberg) -- Add sulfuric acid to the list of challenges facing copper miners as the world clamors for more of the wiring metal.
The compound, used to extract copper from ore, is getting harder to come by. A slowdown in oil refining during the pandemic has resulted in less availability of sulfur, a key input for the acid. At the same time, more acid made in Asia is being used locally as industries there rebound. At least one copper mine in top-producer Chile has already been impacted and spot prices have surged.
"That collection of events hasn't ever really happened before," said Peter Harrisson, principal sulfur analyst at CRU Group. "In the middle of 2020, it was smelters wishing they didn't have to make acid because they couldn't sell it, whereas now, it's smelters wishing they could make more."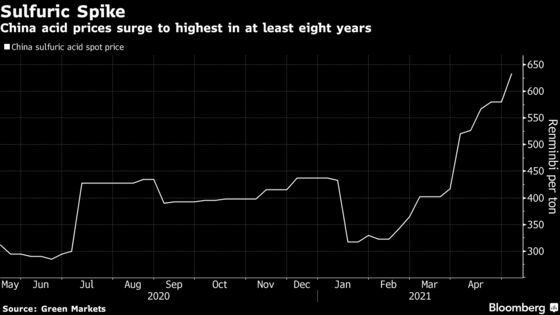 The squeeze on sulfuric acid, also known as oil of vitriol, comes at a time of surging demand and record-high prices for copper as stimulus and vaccination campaigns stoke optimism about economic recovery, while the metal's role in the energy transition underpins appetite longer term.
While some smelters produce sulfuric acid as a byproduct, the solvent extraction-electrowinning technology that's widely employed in Chile uses it as a feedstock. That makes the Chilean mining industry one of the most intensive sulfuric acid users. The nation consumes about 8.5 million metric tons a year, of which just 5.5 million tons is sourced locally, according to government agency Cochilco.
But with China and other countries offering less for export, shipments coming in to Chile fell in the first quarter. That's already having an impact at some mines.
While state-owned Codelco managed to increase copper production in the first quarter, its Gabriela Mistral mine suffered a 40% slump. One of the reasons for that was a lack of access to sulfuric acid, according to Carmen Zuleta, who heads the union that represents workers at the mine. Codelco didn't immediately provide a comment.
To be sure, Chile's ability to maintain high levels of copper output probably faces far greater threats from a slew of wage negotiations or another wave of Covid-19 infections. Still, if tightness in sulfuric acid supplies grows more pronounced and long-lasting, it could affect as much as 12% of production in the country, said Cristian Cifuentes from Cochilco.
While acid contract prices are about $60 a ton, spot levels have surged to $160-170, CRU's Harrisson said. Prices probably will ease back to $110-140 by year-end as a pickup in refining yields more sulfur, but supply is set to stay "fairly structurally tight" for the next four or five years, he said.