Europe's Biggest Fund Says Indian Bond Gloom to Last a Year
(Bloomberg) -- Once a darling of foreign investors, Indian bonds may remain out of favor for as long as a year, according to Amundi SA, Europe's largest asset manager.
Benchmark yields may reach a three-year high of 8 percent in the second half as investors worry about higher debt sales and a faster monetary tightening pace, said Esther Law, a senior emerging-market debt manager.in London.
Amundi joins a growing chorus of bears on Indian assets as surging oil prices have muddied the outlook for the nation's finances and made the rupee Asia's worst-performing currency this year. Add to that concerns about Prime Minister Narendra Modi's administration boosting spending to woo more rural voters in an election-heavy year, and investors are left with a cocktail of risks at a time when sentiment has soured on emerging markets.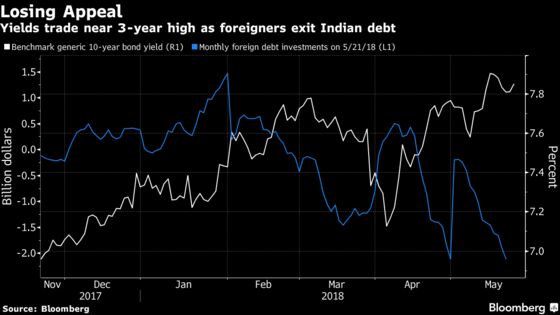 "Indian bonds are compared less attractively versus peers with the recent deterioration in fundamentals," said Law. Amundi has lightened up on local debt as it expects the gloom to persist amid the political uncertainty ahead of general elections due by May 2019, she said, pointing out concerns about widening deficits and faster inflation.
Foreigners pulled $4 billion from domestic bonds since the start of the the year, the most in any year-to-date period in data going back to 1999. In 2017, when they plowed about $23 billion in debt, the highest in three years.
The withdrawals have led to losses across all Indian assets. Bonds have declined in eight of past nine months, pushing up the 10-year yield by more than 50 basis points this year. The rupee added 0.2 percent at 9:39 a.m. in Mumbai after nearing a record low on Wednesday.
Whereas falling energy costs and bond yields benefited Modi after he took power four years ago, the windfall has disappeared with Brent trading at the highest since late 2014. Every $10 rise in oil prices worsens India's current-account balance by 0.4 percent of GDP and pushes up inflation by 30-40 basis points, according to Nomura Holdings Inc.
"Higher inflationary threats from rising commodity prices and lack of significant improvement in the fiscal balance have been primary reasons" for the selloff, said Manu George, fixed-income director at Schroder Investment Management Ltd.
The threat to the government's plans to curb one of Asia's largest budget deficits came into focus this week after the Bharatiya Janata Party failed to form a government in a southern state despite winning the most seats. There's concern that the BJP may respond to the loss by spending more on farmers, a key voting bloc, likely busting this year's fiscal target of 3.3 percent of gross domestic product.
While the rout has made debt cheaper, investors such as Pacific Investment Management Co. aren't rushing to buy as more supply looms, with the central and state governments likely to borrow 10 trillion rupees this fiscal year.
"From a valuation perspective, we recognize bonds are getting more attractive but we will wait until we get more clarity on the supply-demand dynamics," said Roland Mieth, Singapore-based portfolio manager for emerging markets at Pimco. "We are cautious on both the rupee and duration in India."