AMS's 'Sneaky' $4.4 Billion Bid for Osram Puts Bain in a Bind
(Bloomberg) -- AMS AG sweetened to 4 billion euros ($4.4 billion) its offer for Osram Licht AG and surprised investors by avoiding a two-week extension of the bid.
The Austrian semiconductor maker on Friday raised its bid to 41 euros a share from a previous offer of 38.50 euros, saying the "best and final" offer would run until Oct. 1. AMS had already bought one Osram share in the market at the higher price, thus complying with German stock market rules for keeping the closing date intact.
AMS "did something really, really sneaky," Travis Lundy, a special-situations analyst who publishes on Smartkarma wrote in a note Friday. "I expect everyone will now tender."
An extension of the tender period would have given more time to Bain Capital and its new partner Advent International, AMS's opponents in the takeover battle for the German lighting specialist. Earlier in the week, Osram said they were preparing a fresh bid that would "meaningfully" exceed AMS previous offer price and could come after due diligence. The private equity firms declined to comment Friday.
AMS's new offer price sent Osram shares 5.4% higher to 40.77 euros in Frankfurt trading, while AMS fell 2.2% in Zurich, giving a market capitalization of about 3.7 billion francs ($3.7 billion).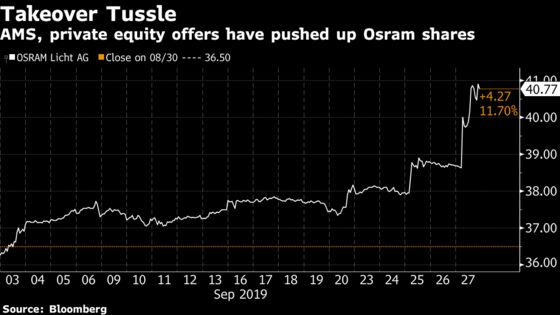 The tussle for Osram began in February when the former Siemens AG unit said it was in talks with Bain and Carlyle Group about a potential takeover. The pair made an offer at 35 euros a share in July, which was trumped by AMS the same month. Carlyle Group would be replaced by Advent in any new offer.
AMS has faced resistance from Osram and its unions. Osram's board recommended the offer to shareholders, while emitting reservations about the financing conditions. Labor representatives have voiced stronger opposition, and written directly to major Osram shareholders asking them not to tender their shares to AMS.
Osram has struggled since it was cut loose by Siemens, with the shares more than halving last year before speculation of takeover interest started to circulate. Osram's performance is closely tied to the automotive industry, which is suffering amid lower demand in Europe and China.