AMP Takes $214 Million Charge Over Advice Scandal; Shares Fall
(Bloomberg) -- Australian wealth manager AMP Ltd. has put a price on revelations it mistreated customers, saying it will take a A$290 million ($214 million) charge to compensate for poor or non-existent advice.
First-half underlying profit will be between A$490 million to A$500 million, down from A$533 million a year earlier, the Sydney-based company said in a statement Friday.
AMP shares fell as much as 3.2 percent to a record low A$3.37 in early Sydney trading, extending this year's decline to 35 percent. Both the chief executive officer and chairman resigned after an inquiry into misconduct in the financial sector heard the 169-year-old company repeatedly misled the regulator over charging customers fees for services they didn't receive, which may lead to criminal charges.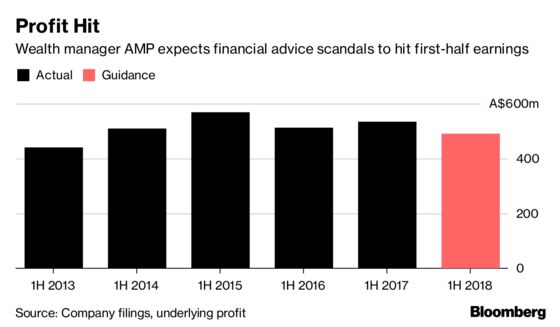 "We're facing squarely into the issues that have impacted our reputation and the community's confidence in AMP," acting Chief Executive Officer Mike Wilkins said in the statement. "We know it will take time to earn back trust, however today is an important milestone in that process."
Read more: AMP flags profit decline, dividend at low end of range
The company said it would prioritize a review of its businesses and is in "active discussions" with a number of interested parties.
It will also cut fees for about 700,000 pension customers, and spend A$35 million annually over the next two years improving compliance controls. Other big pension providers such as Westpac Banking Corp.'s BT Financial have been cutting fees and scrapping legacy payments as the industry fights to regain public confidence after months of damaging revelations.
The A$290 million post-tax charge includes provision for customer compensation as well as potential lost earnings, the company said.