AMP Taps Top Female Banker to Move Past Scandals And Turmoil
(Bloomberg) -- Alexis George will take over as chief executive officer of AMP Ltd. as Australia's oldest wealth management firm seeks to move on from a series of recent scandals and kick start its recovery.
The 57-year old deputy CEO at Australia & New Zealand Banking Group Ltd., who joins AMP in the third quarter, will need to choreograph one of the toughest turnarounds in Australian corporate history. Outgoing chief Francesco De Ferrari will retire after less than two-and-a-half years at the helm.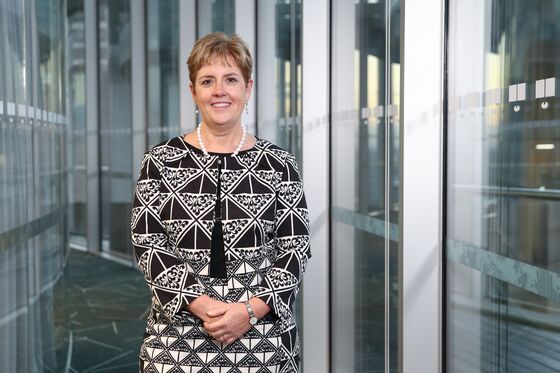 With the backing of a board steered by chairman Debra Hazelton, the two female executives will form a rare partnership in an industry dominated by men. They'll need to show investors the company has moved on from a sexual harassment scandal that cost senior management jobs last year and revamp its wealth operations which remain in the firing line from regulators.
While it's historic, "representation really is the tip of the iceberg," said Brynn O'Brien, executive director at the Australasian Centre for Corporate Responsibility. "What the company needs is wholesale cultural change, and it will be on the new CEO and the board to deliver that."
AMP shares rose 4.7% in Sydney Thursday, the biggest gain in more than a month.
George, who was born and raised in Bega, about 450 kilometers south of Sydney, oversaw ANZ's wealth unit before becoming deputy CEO. Lessons learned when she helped sell its life insurance and pensions businesses to Zurich Insurance Group and IOOF Holdings Ltd., and helped rebuild trust in ANZ's wealth unit, could prove invaluable at AMP.
Among the challenges, she must resolve uncertainty over AMP Capital, its wealth management arm that the firm has already unsuccessfully tried to sell. While changing the company's culture may be tough, it was called out as key priority by chair Hazelton on Thursday.
"In Alexis George, we have a great leader and strong fit for the future of our company," said Hazelton. "On any measure, she has outstanding industry experience in wealth management and banking, and is committed to continue the transformation of AMP's business, and importantly, our organisation's culture."
She joins Macquarie Group Ltd. CEO Shemara Wikramanayake as the only other chief executive of a major Australian financial institution, while AMP is among just five of the country's 200 largest companies with both a female chief executive and chair.
"Given the cultural challenges AMP has faced, we're encouraged at the positive signal a female Chair and CEO sends," said Mary Delahunty, head of impact at HESTA, a pension fund with about A$58 billion. "However, given the commitment the Chair has previously made to rebuilding trust with shareholders, clients and employees, we are looking to see the steps this new leadership team now takes to strengthen AMP's governance and culture."
In a memo sent Thursday morning to staff in ANZ's wealth unit, George said she always thought that the wealth business was her home, signing off the e-mail with thanks, "Lex."
De Ferrari's tumultuous tenure highlights the gravity of what lies ahead for George. He took the helm in December 2018, himself an outsider after arriving from Credit Suisse Group AG, where he ran the private banking unit for the Asia-Pacific region.
Since then, the stock price plumbed an all-time low and in August last year, David Murray stood down as chairman and Boe Pahari was demoted from his position atop the firm's investment management unit after a sexual harassment scandal.
"They wanted to bring in someone completely new, and they wanted to give him a chance to turn the business around, a completely fresh start," said David Sokulsky, chief investment officer at Carrara Investment Management. "It just hasn't worked."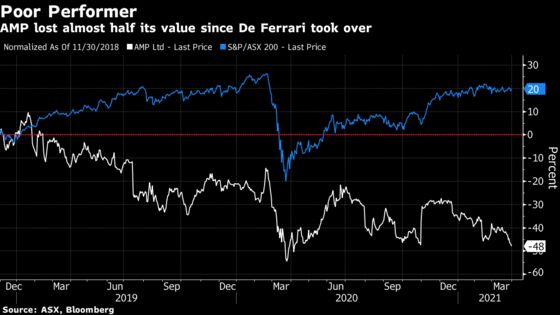 Revitalizing a company that began in 1849 as a mutual provident society owned by policyholders may require further cost reductions. George must also navigate the possibility of more provisions for legal costs, according to Bloomberg Intelligence analyst Sharnie Wong.
"It's going to be difficult," said Richard Coles, an analyst at Morgans Financial Ltd. AMP are halfway through the turnaround and "there's still a fair bit of work to go to pull out costs and improve their offering so it's more competitive," he said.